At least 2,000 elderly of Bengaluru face homelessness and abandonment by their families after retirement and seek shelters or resort to begging.
By Yamini Chincholi
The economically deprived elderly of Bengaluru face neglect, abuse and abandonment by their families and need old age housing and care.
As many as 18 million senior citizens in India are homeless. Agewell Study on Human Rights of Older Persons in India says 75.5 percent of older persons reported living in inhuman conditions. In Karnataka, there are around 76,735 homeless people a per the 2011 census, with Bangalore alone contributing as many as 13,907, of which at least 1,196 are above 60 years of age.
The study states, "65 per cent older persons living in urban areas reported that they had to live in abject situations due to their old age."
El Charitable Trust is an old age home in Gollahalli, housing around seven to eight elderly ladies. Two of the inmates, Ms Gajalakshmi (75) and Ms Savithramma (85) are from Tumkur and are sisters. Gajalakshmi is a retired government school teacher. After divorcing her husband, she sought El Charitable trust. Most of the women here are either abandoned by their children or divorced or both.
"My son lives in Bengaluru with his wife. I had divorced my husband long ago because he was abusive. My son asked me to seek an ashram when I became an extra mouth to feed," Gajalakshmi said.
Senior citizens living in poverty face abandonment by their own families as they cannot earn an income. The HelpAge India 2019 report, 'Home Care for the Elderly: A Call to Action' says, nearly 3 million elderly are deprived and 93 percent of them belong to unorganised sector with no post-retirement benefits or pensions.
Nalini D S (67), from Temple Road, Raghuvanahalli was asked to leave her in-laws house after her husband's death. She lived in Kanakapura until 2017 when her relatives found her and took her in. "I did not have a stable home. I lived in at least eight places for a few months each for years in Kanakapura because I had no money or family, and security was an issue," she said.
An NGO, called Nightingales Medical Trust provides dementia care and jobs for the elderly in India. "Mostly abandoned due to old age, physical or mental ailments, the elderly are forced to beg on the streets and live an undeserving life of humiliation and indignity," they said.
The HelpAge report identified that a majority of these destitute women belong to marginalised sections, with over 71 per cent living in rural areas and over 50 per cent being widowed, and most of them belonging to poor socio-economic sections of society.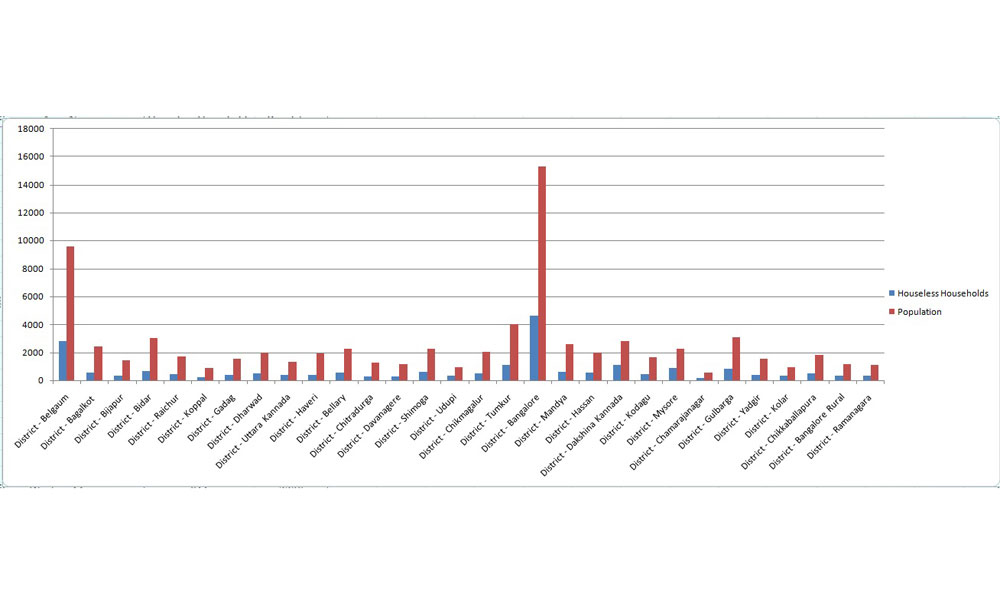 Another survey by HelpAge observed that of 218 elderly respondents in Bengaluru, one-fourth of them were abused at home. Around 73 per cent of them said they had faced disrespect, 52 per cent of them had faced neglect, and some had even experienced verbal, physical or economic abuse.
The 2011 census suggests that the demand for senior citizen housing in India is '2.4 lakh units in urban areas' and 51,500 residences in rural areas. Apart from the various private old age homes across Bengaluru, there are only five that are government aided/funded.
The Deputy Director (Infrastructure) of the Social Welfare Department, Mr Manjunath B T said, "We focus mainly on education and health and getting scholarships for students. More attention needs to be given to providing housing for the elderly of the city. It is a neglected issue."