Twenty three shops on Meenakshi Kovil Street in Shivajinagar have been relocated to Park Road, right behind the street to make way for Namma Metro.
Abdul Hafiz, one of the 23 shopkeepers, silently watched while the products of his cane shop were being shifted to a congested, temporary shop right behind Meenakshi Kovil Street.
"We bought our original shop from the BBMP almost 45-50 years back. That's where we have worked all our lives. Now suddenly, one year back we were asked to evacuate. After negotiations, we were then promised a sum of Rs 3.68 lakhs for those having VAT paid documents and now it appears that we would only be paid a shifting fee of Rs 35,000." Abdul Hafiz told The Softcopy.
The shops have been shifted to Park Road, which is situated on the interiors of Meenakshi Kovil Street. On top of that the ongoing Namma Metro work is generating a lot of construction and demolition waste which is overshadowing the newly shifted shops behind the street. Business is also taking a hit for these shopkeepers.
Javed Pasha, another shopkeeper who is being shifted, said, "We are suffering losses ever since this Namma Metro work has started. This, being a construction area, customers choose to avoid coming into our shops."
BBMP Special Commissioner (Estate), Mr. G.C. Murthy said, "This is news to me. I just got transferred here and had no clue something of this sort is going on under my jurisdiction."
The shops are being shifted since the 11th of this month. "I think these are mostly illegal occupants who are being shifted," He added.
The temporary shops are smaller than the ones that these shopkeepers had before. Concrete ceiling has not been done yet. Fibre sheets have been used for roofing.
Mr. Yashwanth Chavan, Chief Public Relations Officer, BMRCL said, "We didn't promise anything of this sort to the shopkeepers. We have given them exactly what we are supposed to pay as compensation for shifting purposes, i.e. a sum of Rs. 35,000 each."
Javed added, "We had shops of about 200 sq.ft. each, earlier. Now we are shifted to these temporary shops that are of the size of a make-shift restroom. We are really disheartened by what we have received."
The shopkeepers are now planning to meet the new Special Commissioner within a day or two and address their grievances to the new head.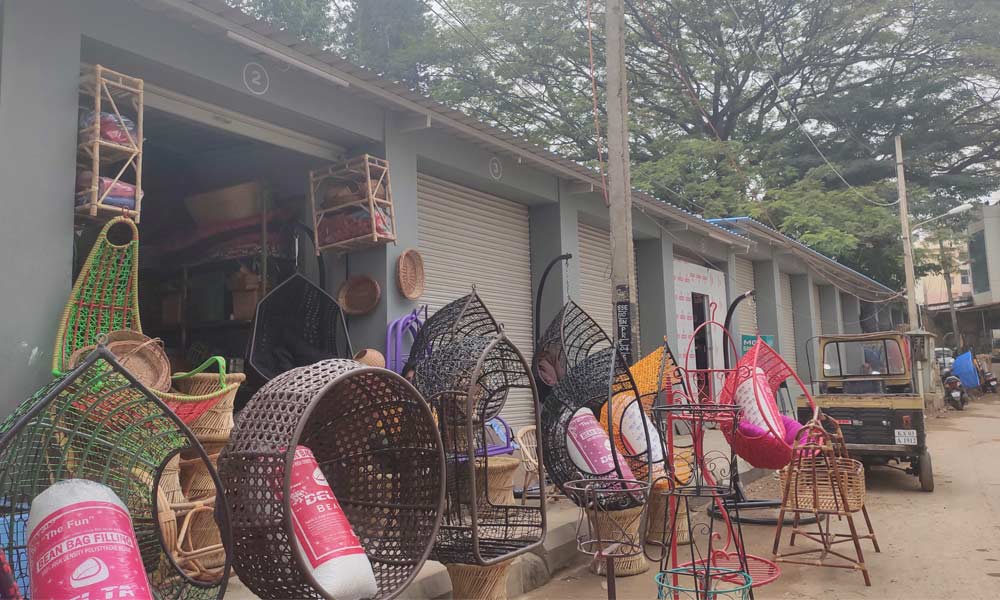 "This land was under the BBMP. We did not have any direct association with the shopkeepers who are being shifted. We built shops according to what the BBMP had asked for," said Mr. Chavan.
Advocate Shubhanyu Singh suggested, "If this is contested in court, KTCP (Karnataka Town and Country Planning) Act of 1961, can be taken help of, since we are dealing with the transferable, developmental rights. I think the fact that they are paying something at least is good because it shows that the BMRCL considers itself liable. So the legal framework would be that in court they can argue that they are due to pay the dues since the last 2 years, but that can't be the ground to deprive these small scale shopkeepers of a fair compensation."