In Shahpur taluk, the benefits under Pradhan Mantri Awas Yojna- Grahmin (PMAY-G) cannot be accessed by everyone
By Archita Chakraborty
People in the villages of Shahpur are unable to avail the benefits of the Pradhan Mantri Awaas Yojna-Gramin (PMAY-G) as they are not getting the allotted money to build their houses.
Shahpur taluk has a total number of households of 6,448 and only 2,664 have been built till 2017. That is only 41 per cent from whole taluk. Not even half of the families got the benefits.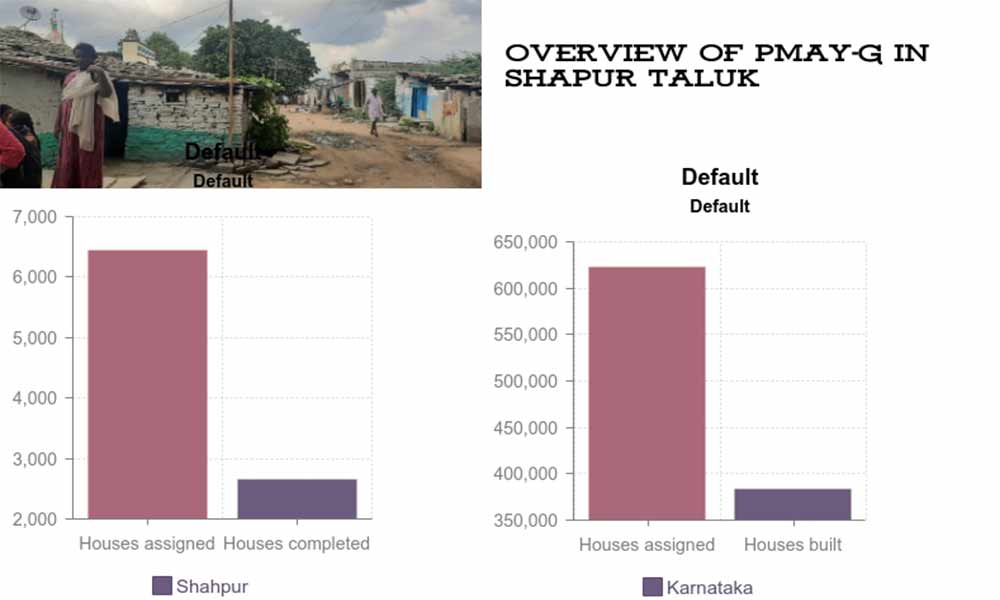 M. D. Saramuddin, a resident of Sagar village, said, "I applied for the scheme in December 2016, but didn't get the money. My details are not approved though I submitted every document I had."
However, Mr. Annaray, Panchayat Development Officer (PDO), of Sagar village said, "Our residents are getting the facilities of PMAY-G every year. There are almost 100 families who already got their loans to build their houses."
But data from the Ministry of Rural Development, Government of India, shows that after 2017-2018, there is not a single house that has been built in that village. The data says only 35 houses have been built still now.
Another resident, Ramesh Mallapasaid, "I have got Rs. 80 thousand in second phase for my house. I was supposed to get Rs. 1.2 lakh in total. I have not received the rest of the amount in last two years. Whenever I asked the PDO or any officer, they say that they don't have enough funds right now."
In Karnataka, the number of houses that have been assigned under PMAY-G scheme is 6, 23,062 but only 3, 83, 064 projects have been reportedly completed.
Apart from the construction, the local governing bodies block the housing schemes for the beneficiaries in many cases.
Even in the Rsatapur village, there are many families who didn't receive the money they have applied for. Most of them are still living under the asbestos roofs.
Amina Begam who lives under the asbestos roof just in front of the panchayat office said, "I have eight people in my family and we all adjust in one room. No money has been allocated till now for us."
Things are worse in Hasagundi village. Most of the villagers don't even know about the scheme. People are living in the houses where the ceilings are asbestos and in India, the asbestos was banned since 2011 but in Shahpur villages there are large amount of houses which are made of asbestos roof which is more affordable. But asbestos affects the heart and mainly people get breathing problem.