City Cybercrime police station has registered over a dozen fraud cases in Bengaluru in past one month.
Abhinav Kumar
The number of AnyDesk App users getting exposed to banking frauds is on the rise in Bangalore. This year, the Cyber Crime cell has recorded 15 fraud cases in September.
R.Ratnam, member of technical staff in Cybercrime Bangalore, said, "There are several fraud cases registered related to Any Desk App. Few customers of HDFC bank also got trapped in the fraud."
AnyDesk is a proprietary remote desktop tool distributed by AnyDesk Software. The software program provides remote access to personal computers running the host application, which can be installed on Windows, macOS, Linux, and FreeBSD. It also allows users to access computers both from personal computers and from iOS and Android mobile devices.
Aman Singh, an employee, said, "I have been using this app from three months, and strangely one day a transaction of Rs 35,000 was done from my account without my knowledge. After checking I came to know it was done online as my internet banking account was signed in through my phone."
Vishal Kumar, a bank employee said, "After we received a number of complaints from the users, the bank immediately alerted the online banking users about the AnyDesk app and how the fraudsters access customers' account through Unified Payment Interface (UPI)."
Swati Singh, a teacher complained about money getting deducted from her account while her banking details were logged in on Anydesk App. "Technology has back-fired me", she added.
The Reserve Bank of India has  warned people about AnyDesk app and asked the social media users to avoid downloading this app. On February 14, the RBI alerted banks about potential fraudulent transactions on the unified payments interface (UPI) platform. In the notice, the central bank informed the commercial lenders that a mobile app named "AnyDesk" was being allegedly used to target the mobile phones of customers. The alert was issued by the RBI's cyber security and IT examination cell.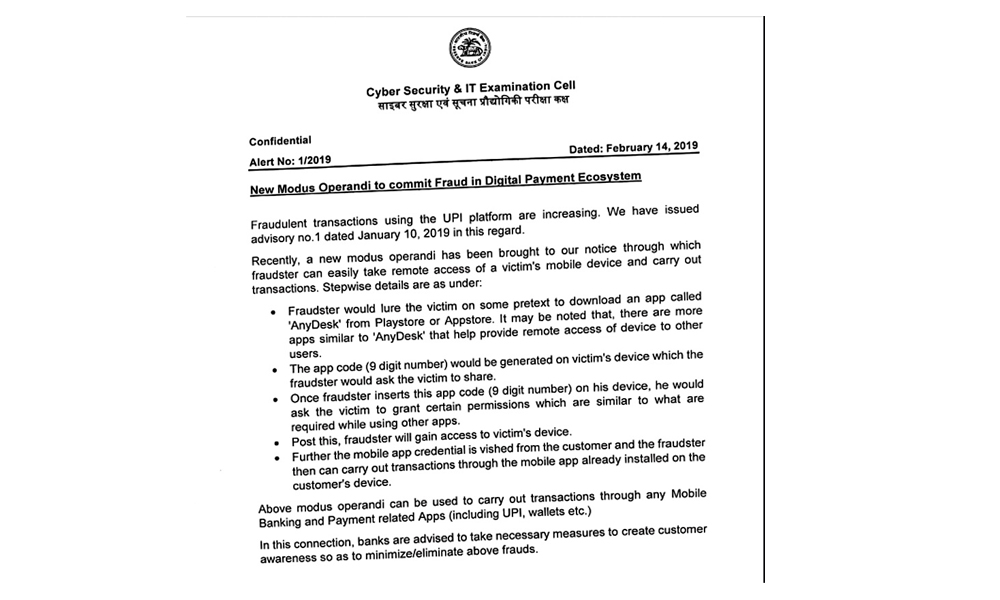 Once the app is downloaded on a mobile phone, it seeks permission to access control of the phone. However, when the permission is granted by a user, AnyDesk app allegedly steals confidential data on the phone to carry out fraudulent transactions through other payments app available on the phone.
Sammer Saurav, an expert from Tech Expert Solutionssays, "Never open an unidentified link in any social networking platform that leads to download new software or app and keep changing your password once in a month, never use third party platform or remote access for internet banking."