Tourists prefer Hampi over all other tourist attraction sites in Koppal district.
By Apoorva GS
Hampi gets six lakh more tourists every year than the combined foot-fall of all the other prominent tourist attraction sites in Koppal district. One of the main reasons is the poor maintenance of these monuments. The Department of Tourism in Koppal doesn't pay much attention to these 'neglected' tourist spots.
According to the data provided by the tourism department, 33,67,530 people visit Hampi (of which 60,346 are foreigners), whereas the other seven historical sites combined attract 27,32,066 tourists every year (of which 945 are foreigners). Over 98 per cent foreign tourists do not even visit the other historical temples.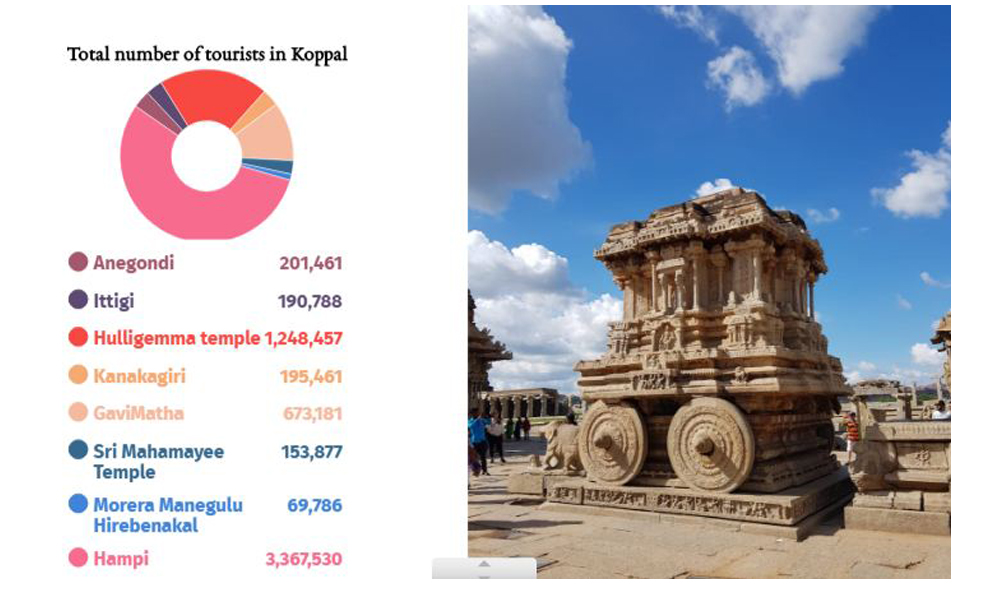 Tourists barely know about any other temples, except Hampi. Tourism places like Aanegundi, Ittigi, Hulligemma temple, Kanakagiri, Gavi Matha, etc. are known for their history, but are rarely visited.
As Hampi was declared a UNESCO world heritage site, other temples in the same district became trivial. The Tourism department also started neglecting these historical monuments. They are rarely cleaned or maintained.
Mothilal Namooni, Maintainence Department, Hampi, said, "There are lakhs of tourists who visit Hampi every year. People are more excited to know about the history of the place,. Especially foreigners, who come from distant countries, show more interest in knowing the history of the temple. But most of them go back after visiting Hampi. They are not aware about the other places to visit in Koppal."
Lingajja, a local newspaper reporter, said, "Places like Hippie Island have become a destination for rave parties, and so they are well-known by tourists. The place is losing its historical essence and traditional culture by these westernized practices. Government should take an initiative to promote these historical temples so that it can attract more tourists and contribute to the economy."
Venkatesh. P, a resident of Koppal, said, "Places like Anjanadri temple have gained significant popularity after honorable Prime Minister's wife visited the place, but basic facilities, like toilet, are not available in these tourist places, which causes inconvenience to the tourists.
"We are planning to improve other temples in the coming few months. It has been improved if you compare it to what it was, five years ago. We are looking forward tomore improvements in future. It also depends on the funds we receive from the state government." said an official from the Department of Tourism, Koppal.
Suja, Tourism Professor at Christ University said, "The Central government releases enough funds but the State government is inefficient in maintaining the historical monuments. Also the funds are not bifurcated on the basis of conservation of historical monuments."
"Irresponsible tourism is another factor for the degradation of these monuments. Policies should be framed to preserve these sites," she added.