Kannur refuses to become a dumping ground for waste from the Bruhat Bengaluru Mahanagara Palike (BBMP).
By Jagriti Parakh
Residents of Kannur village are opposing the upcoming construction and demolition (C&D) waste processing unit by BBMP, as it will increase health risks by further contaminating its water table. Disposing hazardous by-products in the surroundings will also pose health risks.
Industrial hygienists have performed waste characterization studies and identified components which pose significant risks to human health and the environment. The C&D waste processing unit will bring with itself a range of harmful materials that contain asbestos, lead and polychlorinated biphenyls. It will include highly toxic chemical, medical, electronic and florescent waste. It is also known to cause dust and noise pollution.
People living in Kannur and other areas nearby were already against the stinking Bellahalli quarry, where BBMP disposes Bengaluru's garbage. Villagers are protesting because Kannur doesn't even fall under the jurisdiction of BBMP, yet it is being subjected to the pollution caused by those living in other parts of the city.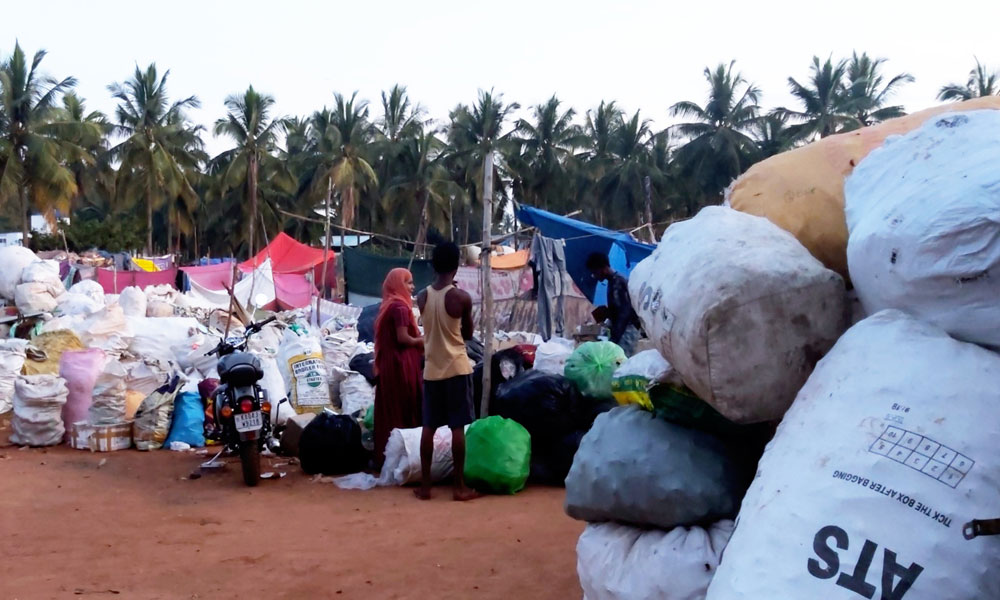 Salim Pasha, resident of Kannur, said, "The existing Bellahalli quarry pit is already polluting the water and air of the area. This plant would make them even more unfit. It would be impossible to even live here."
With no water from the Cauvery, residents have no other option but to gulp down the polluted water supplied by the City Municipal Council (CMC) water connections. Those who can afford, buy water from private water suppliers or the village water purifier. Outside almost every house in Kannur lies a bunch of plastic water containers, which they refill every day by paying Rs. 5 for 20 litres from the 'Clean Drinking Water Unit' in the village.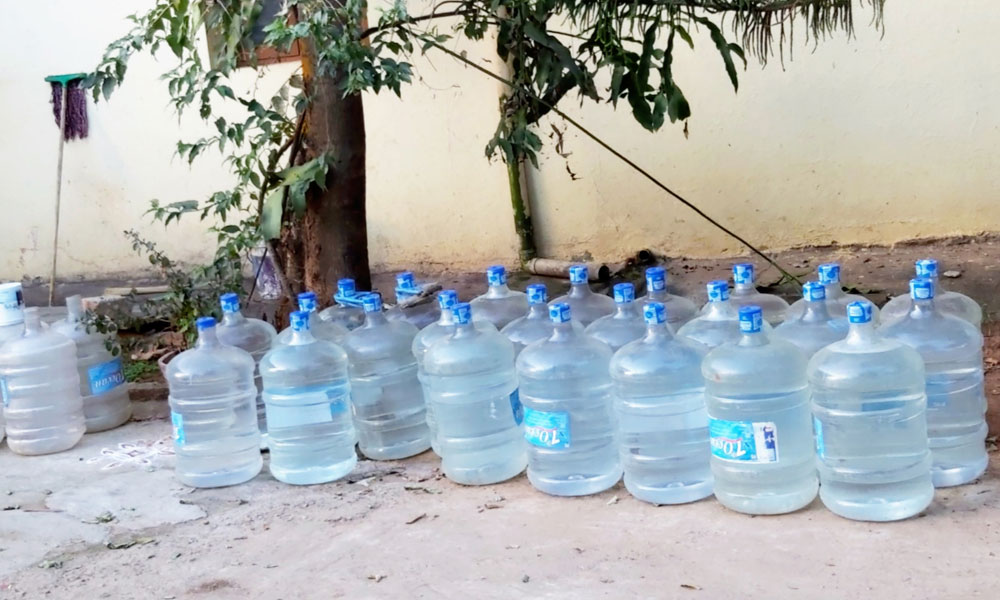 Sunil (32), another resident, said, "My older brother and I can still drink the tap water after filtering, because we have stronger immunity. But for my wife and kids, I have to buy 60 litres of this purified water every day so that they don't fall sick. We also use this water for cooking."
A few years ago, BBMP started dumping waste at the Bellahalli quarry near Kannur to tackle the garbage crisis of Bengaluru. Now to deal with tonnes of construction, demolition and excavation debris, and dry waste generated daily in city, BBMP is again setting up an advanced C&D waste recycling plant near Kannur village in Mahadevapura Assembly.
In October, BBMP signed an agreement with the private company Rock Crystal, to set up a C&D waste processing unit in Kannur. As per the agreement, Rock Crystals will build, own and operate this plant for the next 20 years. The plant is expected to be functional within six months. The capacity of the plant will be 750 tonnes per day.
P. Vishwanath, Chief Executive Engineer, Solid Waste Management, BBMP, said,"The C&D waste is generated even when a person makes alterations in his house and there is no place to dump that waste. With this plant coming into being, there will be a channel for the waste. The plant will convert waste into ready-mix concrete, cement bricks, hollow bricks, pavement blocks, kerb stones, concrete bricks and Manufactured sand (M-sand). It will also generate employment opportunities for the villagers.
"The KSPCB will make sure that the pollution is under control and that all the by-products are disposed as per the guidelines. The area has been decided based on the distance from the city, availability of land, transportation cost, etc."
Manoj Kumar, Member Secretary, KSPCB, said, "The CPCB guidelines require a buffer zone around the processing plant. This would be difficult in Bengaluru. Only in the outskirts would such a plant be possible.  Multiple approaches are required for waste management. The need of the hour is to move towards the management of waste generated currently."
Experts say that processing C&D waste should be of top priority, keeping in mind the safety measures while treating that waste.
Prof. Mathava Kumar, Environmental and Water Resources Engineer, said, "Bengaluru generates close to 3,500 tonnes of C&D waste every day and at least 50 to 60 per cent of it is reusable. However, it ends up at landfills, storm water drains or lakes. Construction waste is a major issue and its management should be a top priority. However, the plant owners must be mindful of what they dispose and where."