Fitness food startups operating from high-rise residential buildings are stocking up more than 30-40 full LPG cylinders in the outlets in Nagawara, HSR Layout, and Nandini Layout and risking many lives.
Riya Sharma
Outlets like Eat.fit in HSR Layout and Koramangala have stocked up cylinders containing more than 500 kilograms of liquefied petroleum gas (LPG) in storage-sheds situated under staircases and near the entrances and driveways of the buildings, which is prohibited according to the Gas Cylinder Rules, 2004.
"These outlets are stocking up LPG cylinders in residential buildings without any safeguard system in sight," said Krishna Singhania, resident of such a high-rise building in Nagawara.
"Karnataka Fire Department should inspect these outlets and ensure the safety of all. We have made several complaints regarding the same, but no action has been taken by the department", he added.
"The Karnataka State Fire and Emergency Services (KSFES) is in the process of taking action against such buildings that have not obtained a no-objection certificate (NOC) from the department for stocking up LPG cylinders exceeding 500 kilograms", said C. Basavanna, Deputy Director of Fire Prevention.
"Every day two truckloads of cylinders get off-loaded into small trucks and go out for distribution. They use it as a mini-warehouse. And no officials are paying attention to this", said Rajagopal M., resident of a similar high-rise building.
"Only empty LPG cylinders are stocked up under the staircase and the driveway", said the manager of one such outlet in HSR Layout.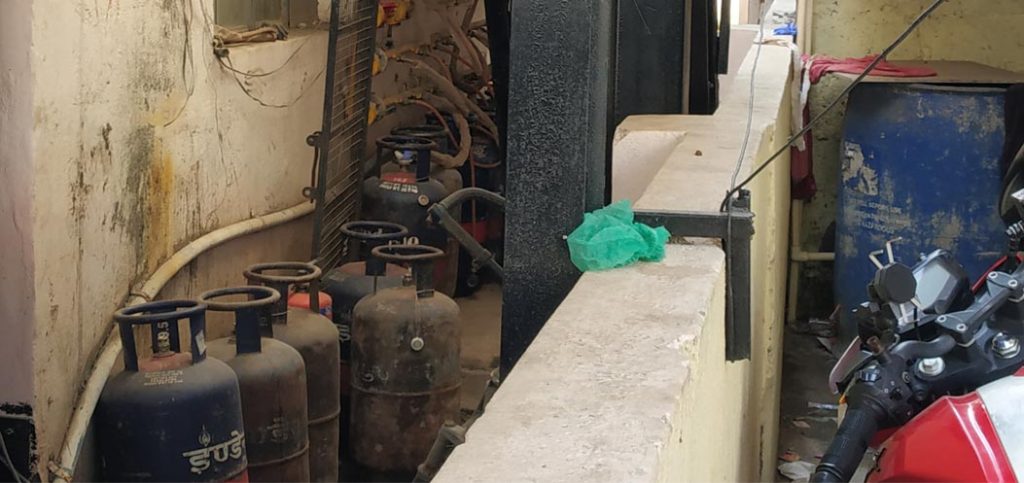 However, on close inspection, later on, The Softcopy found that all the stocked LPG cylinders in that outlet were full and the outlet had no NOC or Clearance Certificate by the KSFES to stock cylinders.
Vijay Arood from a gas distribution agency said that commercial houses resort to multiple bottle connection and stock up the LPG cylinders.
"It is also possible that they resort to the means of obtaining these cylinders from the black market, but we'll never know", he said.
More than 100 families live in these buildings and the storage locations are not equipped with any approved portable B or C rated fire extinguisher, said Rajagopal M.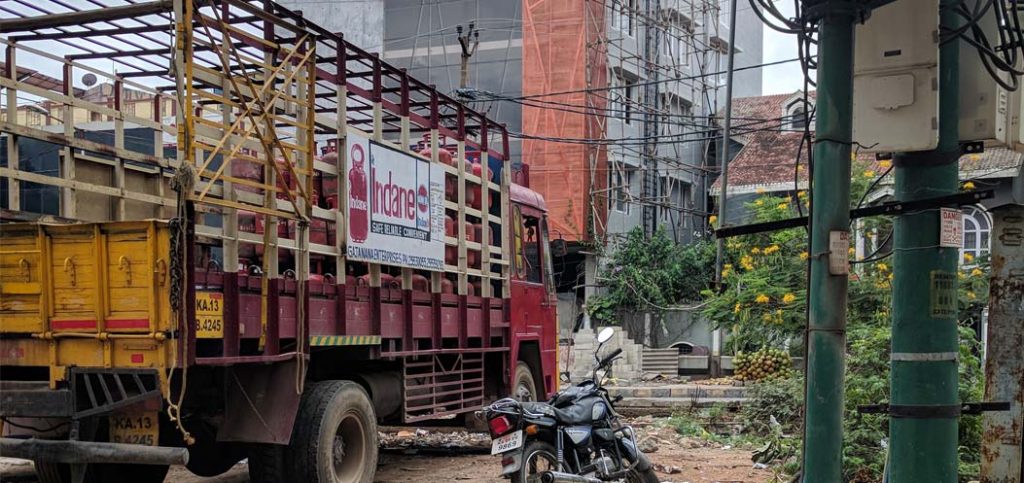 These cylinders are kept right in front of the driveway sometimes, which is seriously dangerous, he added.
There are thousands of buildings in Bangalore, said Director of KSFES, K. Shivakumar, and Fire Services employees are limited. So they can't ensure that every building is abiding by the rules.
"Buildings need to obtain renewal Clearance Certificates (CC) after a period of time, and if the officers find any violation, an issue is noticed to close down the place", C. Basavanna concluded.