Construction of houses for nearly 25 percent beneficiaries under the PMAY-G scheme has been stalled indefinitely.
Ritam Chatterjee
Construction of 210 out of 869 houses for the shortlisted beneficiaries in Gangavathi taluk under the Pradhan Mantri Awas Yojana – Gramin (PMAY-G) scheme has not commenced yet, as per the data released by the Rajiv Gandhi Rural Housing Committee, Gangavathi Gram Panchayath.
As of June 2019, more than 161,000 potential families' houses in India remain unconstructed under the PMAY-G after their names have been included in the beneficiaries' list.
Renuka Amma, a BPL card-holder from Anegundi gram panchayath told The SoftCopy that her name was included for getting PMAY-G scheme nearly eight months ago, but she is still waiting to get the promised financial assistance from the government.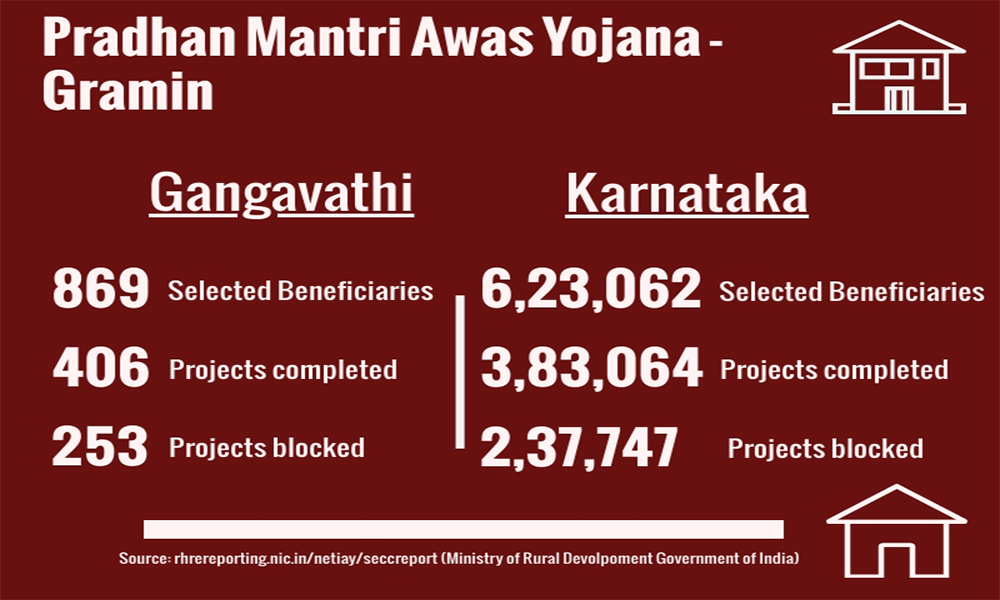 Srikanth, Second Division Assistant, Anegundi gram panchayath (SDA) said that he frequently checks Renuka's account to confirm if her money is added or not.
"Usually after shortlisting the names of beneficiaries by the Housing Committee of Gangavathi Gram Panchayath, the beneficiaries get financial assistance within a month. But a large number of beneficiaries are not getting their money and we're working to fix it," said Srikanth.
Apart from the construction, the local governing bodies block the housing schemes for the beneficiaries in many cases.
"Sometimes, once the family members' names are selected , they start buying bikes or other luxurious elements with that money. If our supervisors find out , we have to block those families from the beneficiaries' list. Till now, we've blocked 253 houses across 42 Panchayath and 167 villages under Gangavathi taluk after the money has been sanctioned," said Kotrayya, a Housing Department case-worker from Rural Housing Committee of Gangavathi Gram Panchayath.
Prakash, another beneficiary, who is yet to get money for the third phase, said, "Generally we get Rs. 1,20,000 financial assistance in three phases from the central government to build a pucca house. The money is directly added to our bank accounts. Some supervisors from our gram panchayath come and see how the construction work is going after the money we've got in the first phase, they verify it by clicking pictures and send to the local governing bodies. After their verification, money comes in the second phase and we work on that."
The objective of the central government was to cover one crore families living in kaccha- dilapidated houses in three years from 2016-17 to 2018- 19. From 1st April, 2016, since the 'Indira Awas Yojana' was re-structured into PMAY – G, the unit assistance has been increased from Rs. 70,000 to Rs. 1,20,000 in plain states and from Rs. 75,000 to Rs 1,30,000 in hilly states, difficult areas and IAP (Integrated Action Plan) districts. The minimum size of the house has been increased from 20 sq.mt (under 'Indira Awas Yojana' scheme) to 25 sq.mt (under PMAY-G).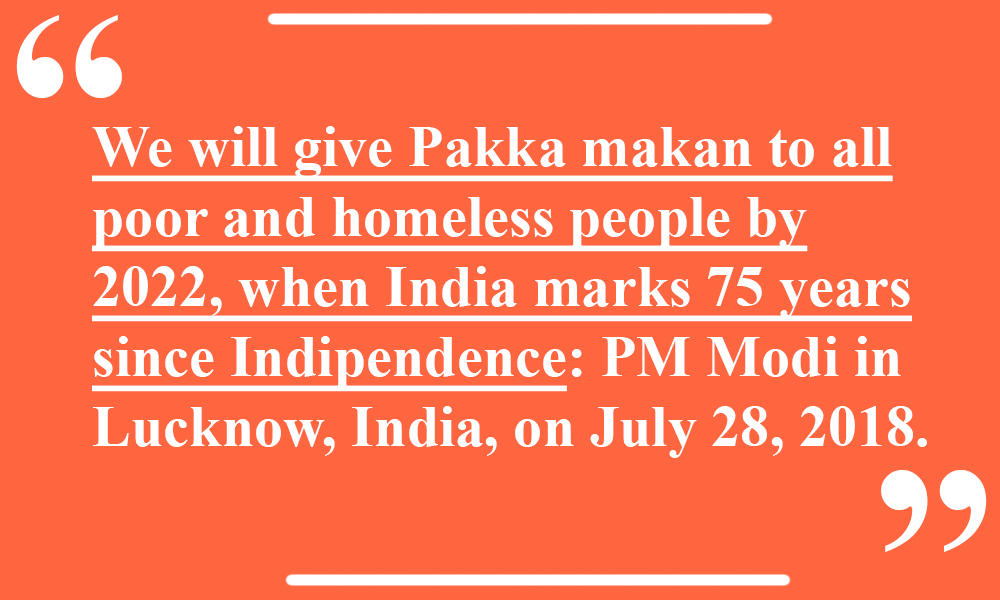 Sandeep Anirudhan, an activist from Bengaluru, said, "The central government still has a lot of pending applications to meet the target by 2022. There's so much traffic in past few years that it's becoming normal nowadays to overlook someone's requirements."
With a large number of beneficiaries' house construction work still pending, Narinder Singh Tomar, Minister for Rural Development, said that the central government plans to construct 60 lakh such houses this year and another 70 lakh and 65 lakh houses in 2020-21 and 2021-22 respectively all over India.