Traffic police kiosks across Bangalore have leaky roofs and broken facades. Policemen work in them without lights or fans.
By Shalu Chowrasia
Traffic policemen continue to work in unmaintained kiosks. They are provided with umbrellas and raincoats to continue working when it rains, as the roofs of the kiosks leak.
A traffic policeman on Infantry Road said that as Bruhat Bengaluru Mahanagara Palike (BBMP) is in charge of the kiosks and that they do a survey before redesigning them. "If they think a new kiosk is required at a location, they install it, otherwise they do not," he said.
Executive Engineer of BBMP, Traffic Engineering Cell, Sri Praveen Lingaiah told The Softcopy that installation of 389 new police kiosks—which was expected to start in August 2019—is still under progress.
An official at Shivajinagar Traffic Police Station pointed out that the main problem is maintenance. "Out of the six kiosks under us, only two have charging points," he said.
The Softcopy came across 15 kiosks which were in a state of disrepair. A traffic policeman on Brigade Road said, "This booth has been the same for the past two years. No one maintains it. I manage with an umbrella during rains."
Joint Commissioner of Police (Traffic), Dr. B. R. Ravikanthe Gowda said that BBMP and Bangalore Traffic Police are jointly working on a scientific model of kiosks. "We are trying to provide kiosks which can at least provide shade and a place to sit and relax at all important junctions," he said.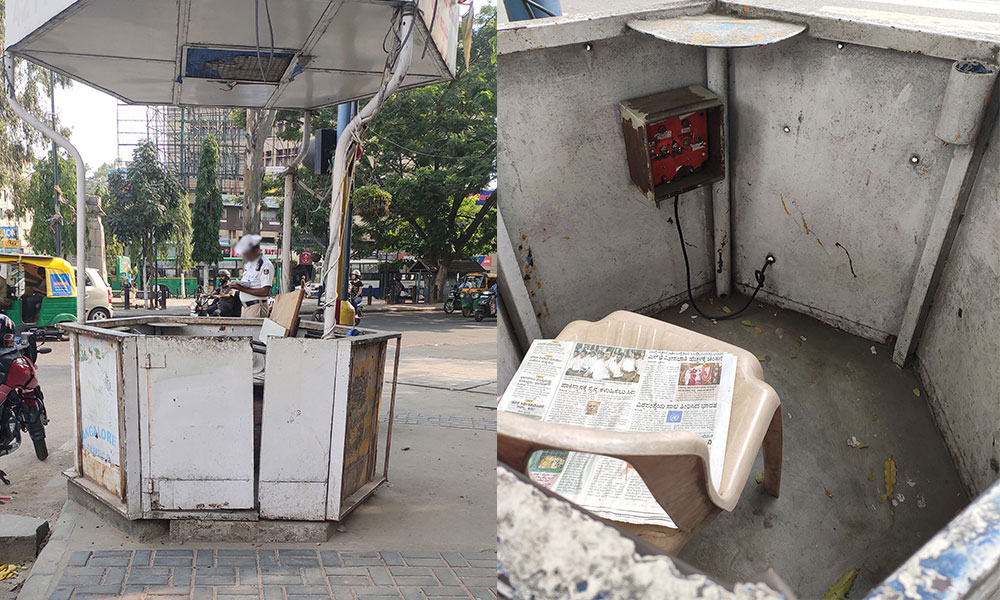 He added, "Unfortunately, the process of installation of the new kiosks is slow. We are working on it phase-wise and focusing on prime locations."
In July 2018, BBMP identified 200 kiosks for which they called tenders to redesign, on a public-private-partnership (PPP) model. The proposed model included solar panel, backlit unit, LED strip, speaker, thickened glass façade and CCTV. But the progress on the proposal is null.
Regarding the maintenance of the old kiosks, Mr. Lingaiah said, "The old ones will be replaced with the new ones."
Although tenders were called in July 2018, and the installation of the new kiosks was expected to start in August 2019, it has been further delayed. Gowda said, "It might take three to four months more, but once it's done, it will improve the working condition of the traffic staff."
Urban planner Anil Bhaskaran pointed out that the parameters of the design of a kiosk should be based on feedback from traffic policemen and the public. He said, "A solution should be arrived at scientifically and it should be implemented."