Electric vehicle users face several challenges due to inadequate number of electric vehicle charging stations.
Batchu Rushali
E-vehicle owners complain of limited battery duration and lack of efficient e-vehicle charging stations for long distance. Several commuters believe that waiting for the vehicle to be charged is also a difficult task. "I regret buying an electric car. I'm always worried about charging it and never sure about travelling to long distance", said Shantanu, an e-vehicle owner.
With the introduction of new e-vehicles by different brands like Mahindra and Hero, insufficient charging stations are an obstacle for people who want to catch up with the innovation.
An officer from Bangalore Electricity Supply Company Limited (BESCOM) said that although BESCOM was expected to setup 12 fast charging stations and 100 slow charging stations across the city, the project has been delayed. He added, "We are working on the installation. It should be completed by October 2019."
In 2018, to encourage usage of electric vehicles, Government of India came up with a set of guidelines. . It states that there should be at least two charging stations at a distance of every three kilometers and one charging station in every 25 kilometers on both sides of the highway.
BESCOM official further said that the first electric vehicle charging station was set-up outside the BESCOM corporate office at Ambedkar Veedhi in February 2018 which is accessible to everyone without a fee. "There are three other operational stations in Bangalore. On an average, per day 2-5 e-vehicles check-in the fast charging station outside the BESCOM office," he said.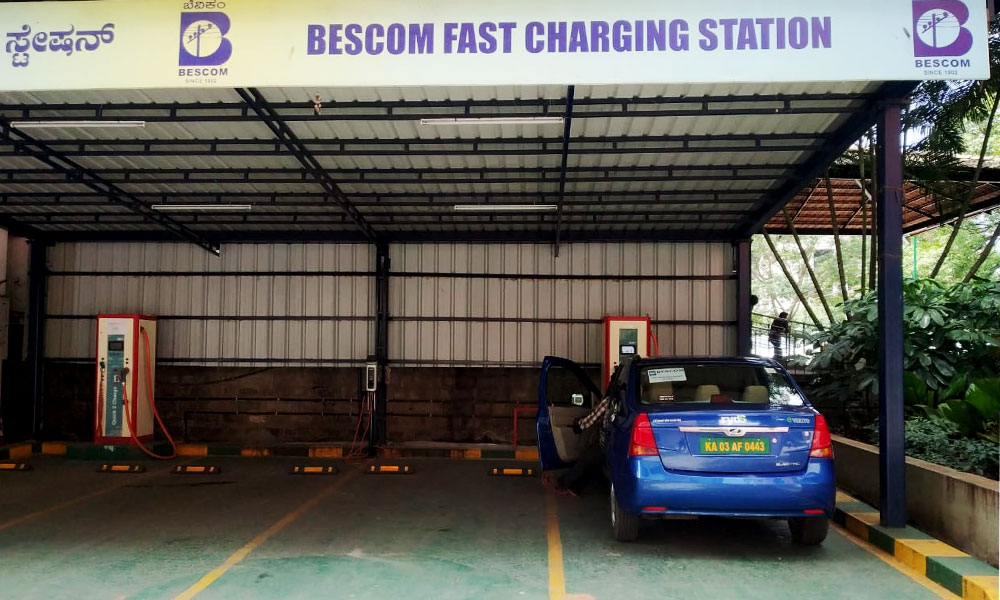 A spokesperson of Mahindra Electrics told The Softcopy that the sales for e-vehicles have gone up by 60 percent in the last financial year. "We've sold 10,276 units last year which are 68 percent more than what we sold in 2017-18.
Sandeep Anirudhan, an environmentalist said that e-vehicles are environment-friendly as it causes less noise and air pollution. "Unless the charging infrastructure is developed and specialized charging points are installed for fast charging, e-vehicles cannot be targeted for long drives. The batteries are not well-developed and of low capacity which causes the long duration of charging."
Mr. Anirudhan gave an alternative solution to deal with the limited battery duration of e-vehicles. He said, "The manufacturing industries of e-vehicles should come up with a secondary economy of charged batteries so that people can swap their old batteries with the charged batteries when it is about to die." He added that instead of carrying the batteries and waiting for the vehicles to be charged, the batteries should be made removable.
Mahindra Electrics spokesperson further said that along with fast charging, they are also considering battery swapping options on charging stations.