Commuters risk their lives on the un-tarred stretch of the Kanakpura Road which was widened in 2017. Broken, encroached and missing footpaths add to the woes of the pedestrians.
Pradnya Desai
The half side of the Kanakpura road from Konankunte Cross till NICE Road is not tarred causing a bumpy road full of potholes.. The road is especially difficult to travel on during rainy days as it gets muddy and slippery.Manjunath, who walks this stretch everyday said, "We can't use this road on rainy days, we have been facing this problem for past two years."
The widening of Kanakpura Road or NH 209 from Basavangudi began in January 2017. The road was widened up to 10 metres, with shoulder road of 1.5 meters on each side. But now this broadened stretch is unused. The initial 33Km stretch of the road from Basavangudi will be a four-lane highway. The rest of the road is under the purview of National Highways Authority India (NHAI).
Narendra Kumar, Assistant Engineer of Bruhat Bengaluru Mahanagara Palike (BBMP) Vasanthapura told The Softcopy, "The road is maintained by Bangalore Metro Rail Corporation (BMRCL)."
The un-tarred and extended part of the road only caters to the rash overtakes by city buses, garbage heaps and people who drive from the opposite direction on these one-way roads.
The stretch near the Talaghattapura metro station, Vajarahalli metro station and especially Krisnaleela Park (ISKCON) station leaves very little space for pedestrians to walk on and hence they are forced to take the underpass which is solely meant for vehicles.
Prakash, an Ola driver who commutes via this road on daily basis said, "There is too much traffic on this road. Unless the metro construction is not completed driving on this stretch will be difficult."
There is no stipulated standard for footpath but Directorate of Urban Land Transport Government of Karnataka has given a set of guidelines that require 2.5 meter footpath on every road.
Station in charge of Krishnaleela Park (ISKCON) Metro Station, Mr. Sai Chaitanya assured that the encroachment by BMRCL will be cleared by the earliest."The road will not be tarred until the completion of Metro construction," he added.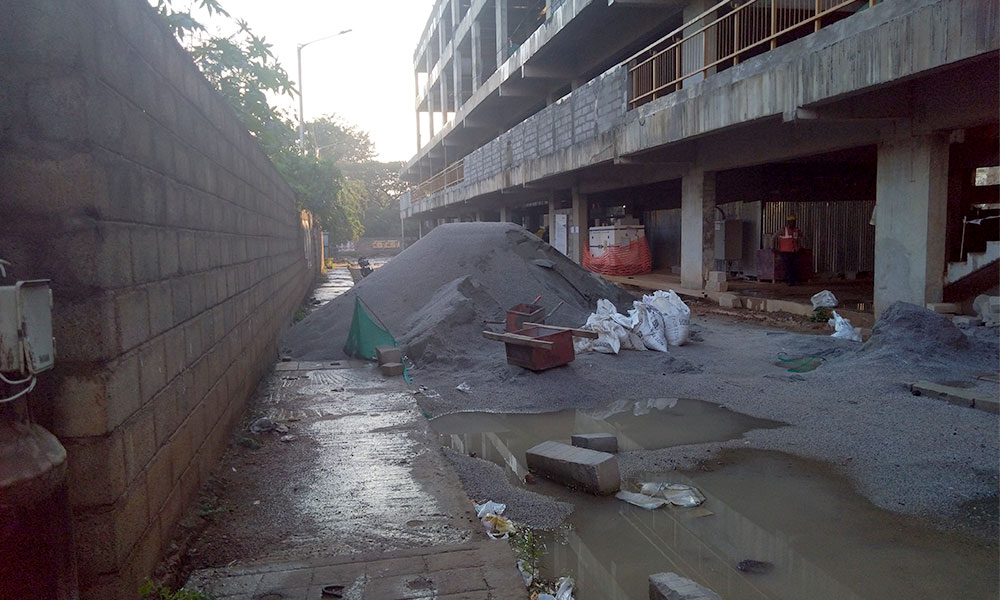 BMRCL's document titled 'Environmental Impact Assessment (2017)' contains a sub-unit -'Impacts and Mitigation Measures due to construction work' that states a possibility of traffic diversion during metro construction. Yet, there is no mention of pedestrian safety or sidewalks in this document.
Dr. B. Mahendra, a panelist from Indian Institute of Town Planning, Karnataka said,"The footpaths are maintained only in posh areas of Bengaluru. BBMP should have provided terms and conditions to BMRCL for responsible usage of the areas near metro construction. BMRCL neglects pedestrian safety and motorability of the roads."
BMRCL in its September 2019 newsletter said that the Yelchenahalli Cross – Anjanapura Township project, a stretch of 6.29kms is to be completed by August 2020. Recently Chief Minister Yediyurappa had instructed BMRCL to expedite the Phase 2 project.
Mr. Venkatesh, Station of Konankunte Station said, "The land belonging to BMRCL near Doddakallassandra is under dispute between ISKCON and City College."
The NH 209 project document summary has listed "increased level of road safety and reduction and traffic and congestion," under the sub-heading 'Project Benefits.
On September 9, 2019, the Chief Minister had asked BBMP to fix the roads in the city. Kanakpura Road is one among the mentioned roads.