Though 50 to 60 cybercrime cases are reported every day in the city, victims of cybercrime have to go to the only cybercrime police station in Infantry Road to lodge a complaint.
Yumna Ahmed
There is one cybercrime station in Bangalore and officials say that there is a delay in solving cases due to shortage of staff. Victims of cybercrime complain of the lack of quick redressal system.
Investigative officer at Cybercrime Police Station, Infantry road, K.N Yeshwanta Kumar confirmed that cybercrime is a major concern and it is difficult to deal with the situation with only one cybercrime police station in the entire city.
He said, "Everyday 50 to 60 cases get registered and it is difficult to give attention to each case. We take at least 15 days time to solve one case. The government had decided to build a new cyber cell but there is no progress as of now."
Eight new police stations were announced in 2018 by the Karnataka Government to handle crime but the proposal is yet to be implemented.
Anusha, a victim of online fraud who lives in electronic city had to come to Infantry road to lodge a complaint.
She said, "I had to travel all the way from electronic city to infantry road. The fraudster tried contacting me again. Though his number is still active the officers are unable to find him."
Kumar further said that there is no sub-inspector in the police station and that staff is overburdened with the number of cases.
Sadhna, a resident of Yelachenahalli who came to the infantry road cyber police station to lodge a complaint told The Softcopy her grievances. One lakh rupees were deducted from my account. It has been more than 15 days and this is the third time I am here. The officer says there is a shortage of staff due to which solving my case is taking time," she said.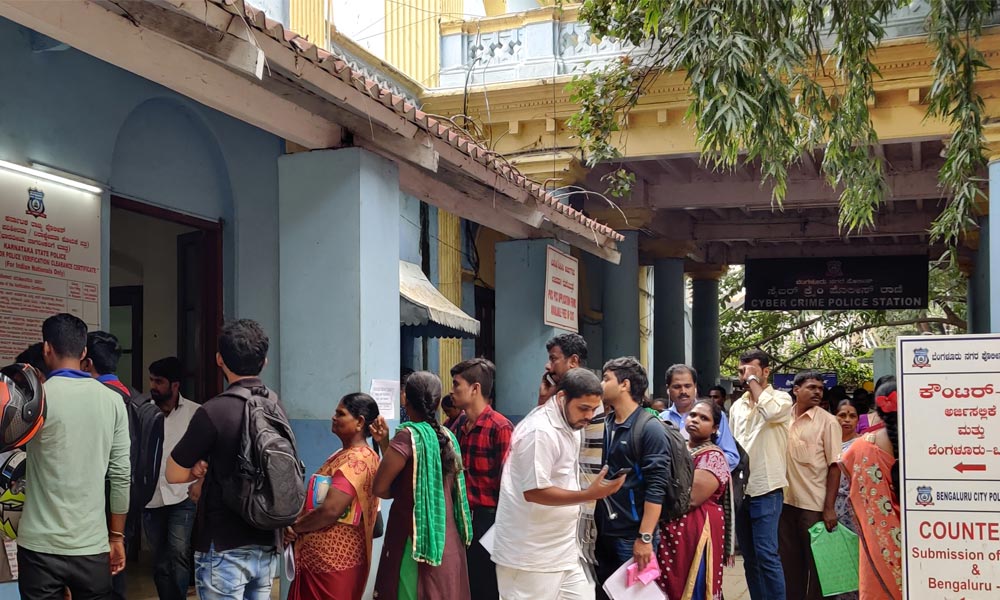 Bangalore was the first city to set up cybercrime a police station in India. Although statistics show that Karnataka registers greater number of cybercrimes every year than Telangana, Hyderabad has three cybercrime police stations as compared to Bangalore. After a survey of the 110 law and order police stations in Bangalore, government of Karnataka had said that in each of these stations, a cyber cell would be set up but there has been no progress.
Dakshita, who was duped in an online transaction said, "After I made a payment through an e-wallet, I received a link. All the money from my account was deducted when I clicked on the link. They have not yet caught the criminal."
Victims can also file an F.I.R. on the online portal of Bangalore Cyber Crime police department but due to lack of staff most of those cases remain pending, said the Investigating Officer.
Ajay Kumar Singh, former IPS and D.G. said, "More cybercrime police stations will help in solving the cases as early as possible. Technology is growing and so is the crime. Skilled and people with knowledge should be appointed in the stations for easy redressal of victims."
Deputy Superintendent of police of CID, M.D Sharad confirmed that new cyber cells will soon be set up in Bangalore.
He said that though there has been a delay in implementation, government is working on it. "Five new cyber cells will come next year in Bangalore and then it will be easier to solve cases related to cybercrime," he added.