Traffic police fail to enforce the ban on tinted glasses after six years
By Arghyadeep Dutta
Despite the Supreme Court's ban six years back, 13878 cases are been reported by Bengaluru Traffic Police against illegal black-tinted glasses in cars in 2019 till August.
The Supreme Court of India in 2012 had said that use of these black films have been proved to be criminal's paradise and a social evil and has jeopardized the security and safety interests of the State and public at large. Chief Justice Swatanter Kumar J. gave the verdict on public interest litigation that said that cars with black films on windows and windscreen were being used to commit crimes like dacoity, rape, murder and terrorist activities.
Tinting is the process of covering glass with polyethylene film to prevent heat and bright sunlight from entering the vehicle.
Section 100 (2) of Central Motor Vehicles Rule of 1989 states that the glass of the windscreen and side windows of every motor vehicle should have Visual Light Transmission (VLT) not less than 70 per cent and 50 per cent respectively which conforms to Indian Standards IS: 2553 (Part 2) -1992.
However, only VIPs with Z and Z-plus status are exempted from the ban and the law.
Visual Light Transmission or VLT is the measurable amount of solar visible light or daylight travelling through a glass. A standard piece of glass has 89 per cent VLT. The lower the VLT, the lower the amount of visible light passes through and makes it harder to see through.
The fines for tinting glass above the permissible level were Rs.100 under section 177 of the Central Motor Vehicles Act, 1988. After the revised penalty list by the Motor Vehicles Amendment Act 2019, it is increased to 25 folds to Rs. 2,500.
K. Mohanan Nambiar, Bangalore Traffic Warden (Two), said, "After the Motor Vehicles Amendment act, the number of cars reported for using black films above the permissible level, decreased due to the hefty fines."
Till August, the numbers of cases come down from 18457 in 2018 to 13878 in 2019.
Vinay Damble, an owner of an auto accessories wholesaler and car customisation workshop at Journalist Colony Road (JC Road), said that they use black films which range between Rs. 1,800 to Rs. 3,500 if any customer asks. They also use sun film over the black film which will cost Rs. 1000 more to make a window black, through which no one can see the vehicle's interior from outside. He also said, "Around 15 to 20 vehicles come to our workshop to get a black film on their vehicles every day among which five to six persons insist to add sun film over it."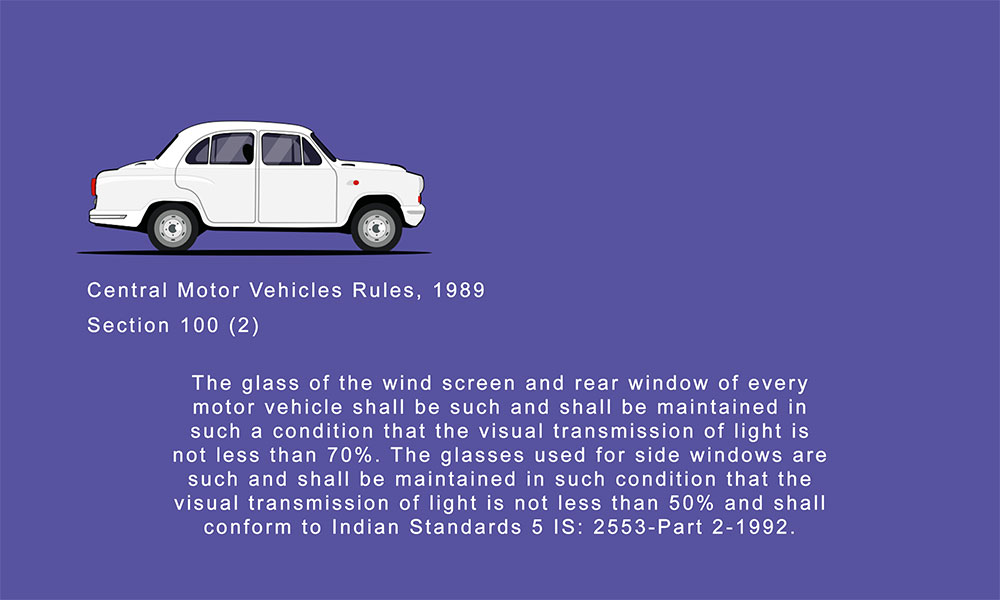 Shivyogi, who has got these black tints and sun film on his car said, "Black windows give me privacy. When I go out for driving, I do not want anyone to peek into my vehicle because I consider it as my personal space."
Professor M. N. Sreehari, traffic engineer and safety trainer, said, "Traffic police are booking reports based on visual inspection. The police do not have any equipment to measure the VLT. If any vehicle has dark glasses, which do not allow to see what is inside, then only the police are penalising the offenders."