Basement parking spaces of buildings and hospitals are converted into shops, restaurants and other commercial establishments, without trade licenses.
By Manasvi Gupta
Illegal commercial establishments in basements of residential buildings, pubs and hospitals are still operating despite being issued notices. Complaints have fallen on deaf ears of the authorities.
BBMP issued notices earlier this year, to illegal establishments operating in basements along roads less than 40ft wide to shut immediately, after the Revised Master Plan of 2015. Still basement violations are common.
In fact, BBMP was using the basement of its Bengaluru South zone office as an EVM warehouse till last month.
Regarding the government offices still operating in basements, Ranjan Kumar, Architect, Urban Designing, said, "The implementing authorities are themselves violating the norms and are coming in bad light. This would encourage people to follow their steps and the violations will increase."
Karnataka Municipalities Model Building Bye-laws 2017 reveal that basement floors shall not be used for purposes other than parking and for storing machines used for service and utilities of the buildings.
Despite this, pharmacies, utility shops, mobile stores, and restaurants working in basement spaces are a common sight in CMH Road, Mallya Hospital, Koramangala, HSR Layout and Indiranagar.
There is a pharmacy running in the basement of Mallya Hospital. The manager of pharmacy, Shekhar said, "We are running the shop since 15-20 years now and not even once we have received any notice."
Mallya Hospital has only two- wheeler parking. Mallikarjuna, Head of Operations commented, "We don't have our own car parking. We use some part of the adjoining school for it. There are shops running in basements in every nook of the city. Nothing is new."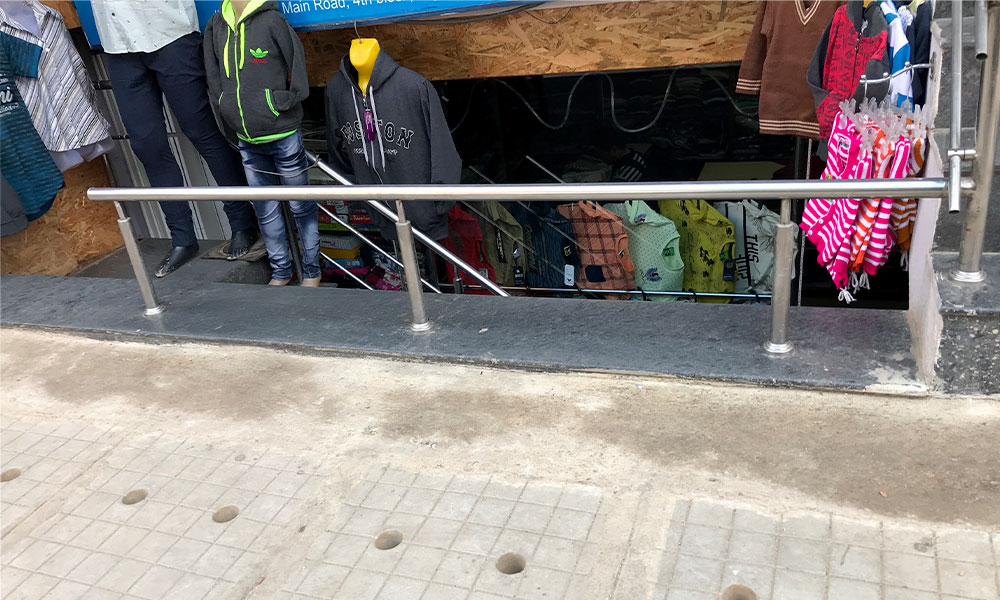 Mr. Kumar said, "Basements need to be reserved for parking only. In fact, stricter laws should be implemented in order to restrict parking on the streets. Only then basement violations will reduce. These issues are all interconnected."
Basement encroachment causes inconvenience to pedestrians and motorists, specifically on less than 100 feet roads.
Lakshay, a resident of Koramangala said, "All pubs and restaurants are fully utilizing their basements for financial gains. All vehicles are parked along the roads which make the walking and parking space narrower. SUVs get stuck. This has become a routine now and we are used to it."He joked that only professional drivers can make out of the parking maze.
Karnataka Municipal Corporation Act of 1976 say that any person who illegally occupies any land, including basements, to use, shall be imprisoned for a term up to three years and a fine up to Rs. 5000.
However, R. Prasad, Additional Director, Town planning Department, BBMP said, "Commercial areas face more basement violations than residential areas and BBMP is still compiling the latest data collected by surveys on encroachments. Till then I can't say anything about it."