Dependence on water ATMs is causing Tataguni residents to hoard the new five-rupee gold-coloured coins. This has endangered potable water availability for many in the village.
Pradnya Desai
"25 Rupees," said a fruit-seller to Rathna, who handed over Rs. 30 to the fruit-seller. The vendor gave back a five-rupee gold-coloured coin. As Rathna was about to leave the vendor said, "Amma, there is something wrong with the coin, please give it back," and gave her the old five-rupee coin.
This five-rupee coin that is a prized possession of the Tataguni residents is a nickel brass coin, weighing 6gm opposed to the old 9gm cupro-nickel coin, but is worth 20 liters of water. None of the three water kiosks in the village accept any other coins as the machines do not support them.
Other than the government-run water ATM, there are two other private water ATMs, one of which is not used much as the filer is faulty. Munawwar, the supervisor of another private water ATM said, "The filter is cleaned twice in a month. The ATM sells about 1000-1500 litres of water per day."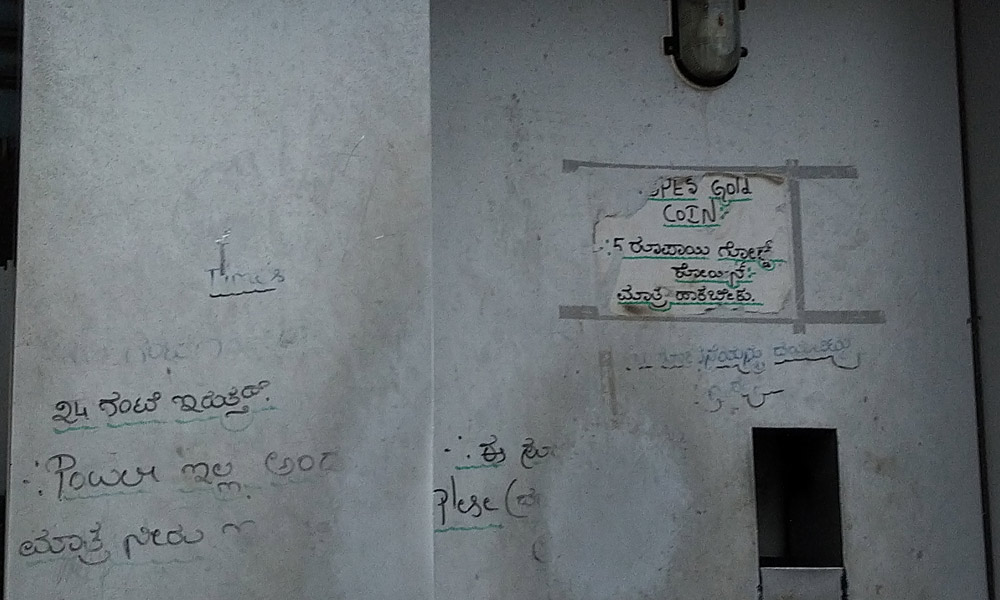 Those who can't access these coins resort to drinking bore-well water. "We collect water from this public tap as it is difficult to arrange Rs. 5 golden coins every day. The tap-water is safe for drinking," said Shahin, a resident of Tataguni.
Dr. Mangala a physician practicing at Tataguni said, "Sufficient intake of water is necessary for good health. Drinking bore-well water can cause infections."
Ravi who works with Agara Panchayat's administration said, "Distilled water from the water ATMs is advised, as bore-well water can cause diseases. Panchayat has installed one water ATM in Tataguni." The bore-well water in Tataguni is unfit for drinking, which is evident by its, taste and iridescence.
Mr. Chandrasekhar, Assistant Executive Officer at BWSSB Stage 4 pumping station said, "The Agara Panchayat has dues pending for ten years. The volume of water for Tataguni is negligible and BWSSB is ready to supply water provided Panchayats or Rural Development Ministry approaches us."
Sudhakara Reddy, a shopkeeper at Tataguni said, "Everyday 25-30 people come to my shop to ask for the Rs. 5 golden coin. I bring these coins from the temples so that
I can help the residents access drinking water."
"The kiosk owners sell these coins to eateries who buy them for a bigger value. Five-rupee coins that add up to Rs. 90 are exchanged for Rs. 100," he added.
The villagers used bore-wells before, which can't be sustained any more due to its changing taste and composition. A 2017 study on quality of underground water in Peri-Urban Bangalore showed that only 16.9% of the water tested in the outskirts of Bangalore meets the WHO standards.
Dr. D. Rajasekhar, Professor at Institute for Social and Economic Change said, "Such hoarding can deny drinking water to other households. Panchayat needs to make arrangements to step up supply of coins or have ATMs using other denominations. Several panchayats use electronic cards which recharge locally."
Karnataka Cabinet recently discussed on access to water ATMs via smart cards, to guarantee safe drinking water.