Four to 10 tattoos get removed every month across clinics in Bangalore.
By Kurian Joe
Aditya Anand has been visiting a dermatologist for the last three months. He is trying to have his tattoo removed, but it hasn't been easy. "I got my tattoo when I was 18 in a small tattoo shop near Commercial Street. It was a cheap tattoo and cost me Rs. 800. After a few months my tattoo started spreading and looked unpleasant, and I soon had to do a laser removal," he said.
More people are now trying to remove the tattoos that they got a few years ago.
"We get four to ten tattoo removal cases every month. Most people get it removed out of regret and others because the tattoo turned out bad. People opt for laser removal over surgery; surgeries are done when tattoos get infected." said Dr. Sachith Abraham, Cosmetologist.
The process of tattoo removal has become easier nowadays through laser. People no longer have to undergo a surgery. However, there is no certainty that tattoos can be fully removed through laser treatment.
"The chances of getting a tattoo removed by laser are 80%.After the removal there might be a chance that the tattoo leaves its trace. Dark colors like black, deep blue are easier to remove compared to colorful ones. A normal laser procedure takes six to eight sessions," said Dr. Veena Rao, Cosmetologist.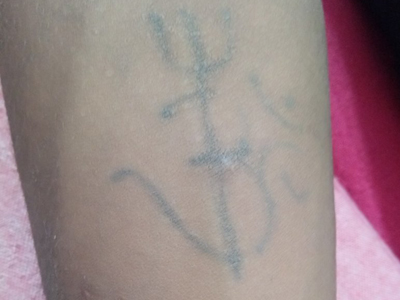 Tattoos go bad when they have not been done properly and when proper care and precautions are not taken after getting a tattoo to preserve the tattoo.
"Tattooing should be done in a clean space with proper equipment; the needle used should be brand new otherwise it can cause rashes and infections to the skin. Care should be taken after getting a tattoo like avoiding sunlight on the tattooed part, applying moisturizer and keeping away from water contact for a few days. If care isn't taken properly the tattoo can get damaged," said Mr. Suresh Kumar, tattoo artist.
Tattooing is nearly permanent, as Aditya Anand has discovered. Removing it is not easy.