Human-snake conflicts are on the rise in Bangalore due to garbage dumping which is attracting rodents and ultimately snakes.
By Swati Ekka
More snakes have been showing up in the city lately due to indiscriminate dumping of garbage, according to experts. People for Animals (PFA) say that in 2018-19, 457 snakes have been rescued by them.
Prasanna Kumar A., wildlife warden of BBMPrescue department said, "We get 60-70 calls per day for snake rescue out of which we are able to rescue 15 to 16. Approximately 500 cases of snake rescue are registered every year. Mostly, we receive calls for snake rescue from North, East and South zones of Bangalore which includes Bennerghatta, K R Puram, Whitefield, Jayanagar, HSR Layout, and J P Nagar. The unauthorised dumping zones are in places which have lakes and wetlands creating suitable habitat for rodents which ultimately attracts snakes."
"Spectacled Cobra lives underground in rat holes and comes out to prey on rodents near garbage dumping zones. We have rescued many snakes out of which Cobra rescues are more in number," he added.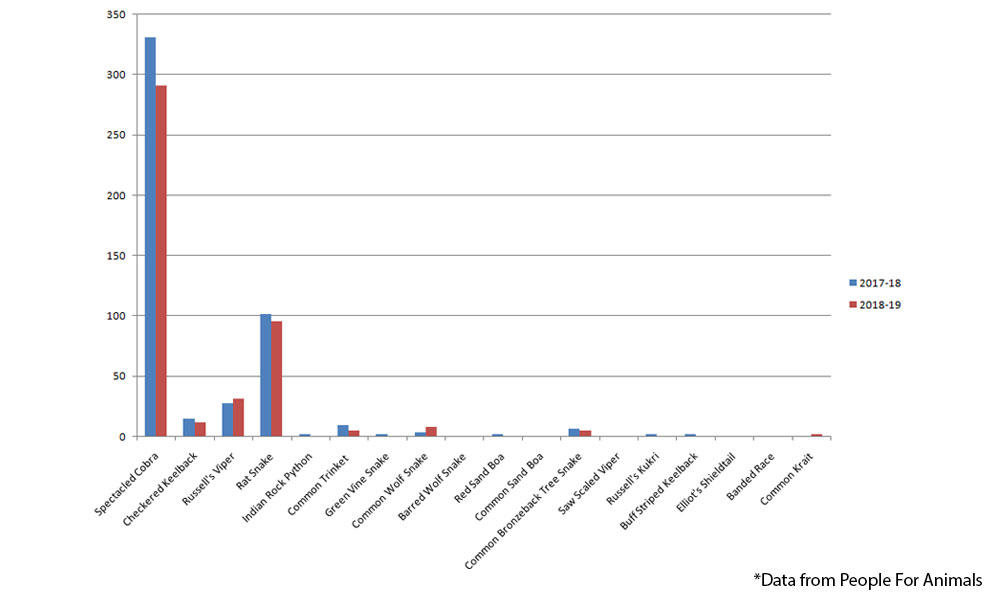 Nilanjana Paikaray, a resident of K R Puram said, "In my area I have heard people calling for snake rescuers once in about two weeks and within a month three to four snakes are rescued."
Deputy Conservator of Forest told The Softcopy, "The Forest department has filed a complaint against Solid Waste Management (SWM) department regarding waste disposal which is causing frequent snakes-human conflicts."
Additional Commissioner of Solid Waste Management department Randeep D. said, "We have received instruction from the Forest Department for garbage removal from various black spots where people urinate and throw their garbage and unauthorized dumping grounds. We have cleared the place which they have asked for."Still there has been a lot of unauthorized dumping in many places. We have 200 twin dustbins in Bangalore which has a capacity to hold 100 kg. While these dustbins are not meant for commercial waste, people use it to dump waste even after they are overflowing," He added.
Prasanna Kumar A. said, "Proper awareness should be spread among people so that garbage is disposed of properly. BBMP solid waste management department should make sure that garbage is collected on a daily basis."
Dr Karthik, senior Veterinarian said, "Cobras are strong species and have adapted to the environment and urbanization. They are very good swimmers and have managed to live underground in rat holes, near drains and swamps. That is why human and snake conflict has increased."