Only 10 percent of these cards, that will help people with disabilities, have been generated. It has been five months since the Swavalambhan scheme has been launched.
By Savyata Mishra
Vijay, a disabled person with partial visual impairment, hasn't received his Unique ID for Persons with Disabilities (UDID) card under the Swavalambhan scheme. It has been two months since he applied. "My card application status says 'application has been submitted' since a couple of months now and I don't know if I will qualify for it," says Vijay. Fortunately for him, a copy of the application form for the UDID card entitles him to a monthly pension of Rs. 1,300. However, he loses out on other benefits.
Data from the Department of Empowerment of Differently-abled and Senior citizens suggest that 2.8 lakh people are disabled in Bengaluru, the district with the highest number in Karnataka state. The data provided on September 17, 2019 by the state nodal officer Dr Rajani shows that 2, 01,335 people have been issued their disability certificate. Out of 7,000 plus applications for UDID cards, 770 cards (10 percent approximately) have been generated.
Sijo Varghese, a person with ambulatory disability and a member of Samarthanam trust, said, "A person belonging to a particular state and having disability certificate cannot use it in another state. However, the UDID card gives national recognition that will help them overcome this problem."
UDID scheme was proposed in 2016 by the Centre to create a database for People with Disabilities (PwDs) and to ensure that they receive the benefits of the various state and central government schemes that are being rolled out in the country. In Karnataka, it was implemented in April this year.
The guidelines of Swavalambhan scheme show that the entire process of issuance of a UDID card is not supposed to take more than 30 days.
Despite that, many people haven't received their cards even after months of applying. People are either unaware of the scheme or their cards are still in the processing stage. This prevents them from benefiting from various schemes.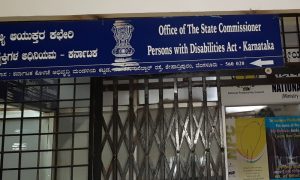 Mr Basavaraju, the State Commissioner for PwDs, explained the delay in processing. "People with disabilities are thoroughly examined before making them eligible for receiving the card. Sometimes, the unavailability of specialized doctors for examining a specific disability delays the process. As there are so many people who come to register, the workload is too much for the limited number of doctors in the city. This may cause a delay in processing the applications," he said.
Dr Rajani said, "Even though the process is quite simple, non-tech savvy people may find it difficult." She ensured that awareness about the scheme is fairly good.
Sijo added that online application may not be that easy for all kinds of differently-abled people.
Mr Basavaraju said, "Due to ignorance of the number of disabled people in the country, government is unable to channelize its efforts as it doesn't know exactly where and what to invest in. NGOs like the Association for People with Disabilities (APD) and Samarthanam Trust can play a key role in sensitizing their members about the scheme."
He further said he is planning to bring out pamphlets and circulate them amongst people who need them to create awareness about the places where the medical examinations take place.
"At present, nine hospitals in Bengaluru are registering and screening people for the cards."
Samarthanam Trust founder, Mahantesh GK said, "UDID cards, like Aadhaar card provides recognition to the PwDs across India. We have planned to organize a camp to spread the word about this scheme so that more people apply for it. In our organisation, we have given the members till the end of this month to register for the cards. In addition, we have also decided to bring the appointed doctors to our organisation to screen the people here."
UDID cards, according to Basavaraju, will not only ensure that the specially-abled people are given equal respect in the society, but will also help them to contribute to the society, thereby empowering them.