' Khelo India' has a budget of Rs. 5 lakh per annum for athletes. But, few swimmers see that money.
Ritam Chatterjee
Despite the promise of providing annual financial assistance to athletes for eight years from 'The Khelo India Scheme', parents have to pay a large sum of money for the participation of their multiple-time-medal-winning children in National and International tournaments.
Kalyani, mother of India's rising 18-year old swimmer from Bengaluru Srihari Nataraj, said, "In the last three months, we had to pay around Rs. 8 lakh for three major championships across the world. From January this year, he is getting Rs.10,000 per month under the Khelo India scheme." The government assures Rs. 5 lakh per annum for eight years under the scheme.
"When my son was preparing for Asian Games in last January, they were very supportive under 'The Target Olympic Podium Scheme' till August last year. Since then, the government has not given any financial support," she added. This seems to be the general trend. A former Olympian swimmer pointed out that the government's support usually is only till a major tournament takes place. Following the event, there is not much financial assistance.
Two weeks ago, Srihari bagged seven gold medals in five days in '73rd Glenmark Senior National Aquatic Championship' organized by Madhya Pradesh Swimming Association.
"I want to reach a certain level of swimming and get better each time of my race to be faster with the support of my mother since the beginning of my involvement in this sport," said Srihari, who is one among six other swimmers across the country who are benefiting from 'The Khelo India Scheme'.
In 2017, The Ministry of Youth Affairs and Sports launched 'The Khelo India Scheme' to provide assistance to India's top athletes along with the objective of identifying talent and connecting rural India to global games.
A.C. Jayarajan, Srihari's coach said, "Until and unless swimmers reach at big stage, government does not support. Athletes have to spend their own money to continue their passion and love for this sport."
A 2018-19 report from the Ministry of Youth Affairs and Sports stated that the budget for Khelo India scheme around Rs. 500.09 crore for different states and union territories in the country.
In 2018-19, a total of Rs.199.31 Crore was allotted for reducing gaps in sports infrastructure and holding sports competitions under the projects sanctioned by the Ministry.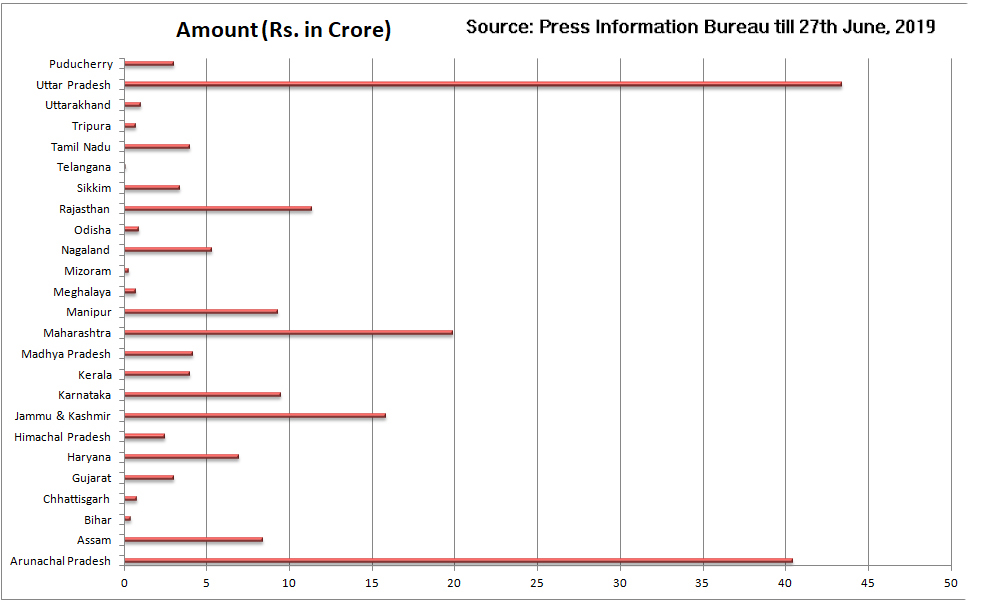 In December 2017, India's present number one swimmer Sajan Prakash, the only athlete from the country who participated in 'Rio Olympics 2016', threatened to sell his medals because he did not have enough funds. He wanted to train in Spain to get better preparation for 'Tokyo Olympics 2020'.
"As this scheme is in one of the top development programmes in the country to bring athletes from grass-root level, the government is going through some procedures for the funds to start," said Ramesh M S, department officer of Karnataka Sports Welfare Department.
Rana Ghosh, whose daughter trains at Nisha Mellet Swimming Centre said, "There are only four or five swimming pools in Bengaluru where swimmers can practice properly with proper guideline. To reach at certain level, swimmers need a lot of financial assistance from the government besides our support."
Nisha Millet, the first woman swimmer who represented India in Olympic 2000, said, "There are lots of facilities now for swimming in India. In my time, my father sold our house for my participation in the Olympics and fulfilled my dream. Still our swimmers need a lot of support from the government as swimming is one of the most expensive sports to carry on for years."