Koramangala-Ejipura flyover construction work won't be completed for the next two years. Commuters face heavy traffic on the busy road.
By Shubhangi Mathur
Construction work on the Koramangala- Ejipura will continue to be a hurdle to commuters. The Bruhat Bengaluru Mahanagara Palike (BBMP) says it will take two more years to complete the work.
Commuters complain that the progress is very slow and the construction of the flyover causes traffic on the already busy road.. Parul Jindal, a Koramangala resident said, "The traffic becomes a big problem on the road due to the flyover construction work. It becomes difficult for me to reach my office." Shanji, a shopkeeper said, "People are not able to park their vehicles and visit the shop because of the traffic."
The 2.4 km long flyover from Kendriya Sadan in Koramangala to Ejipura Main Road junction is being built to reduce congestions at traffic junctions along the way. Former Chief Minister Siddaramaiah laid its stone on October 2017, and it was expected to be ready in two and a half years i.e. by April 2020.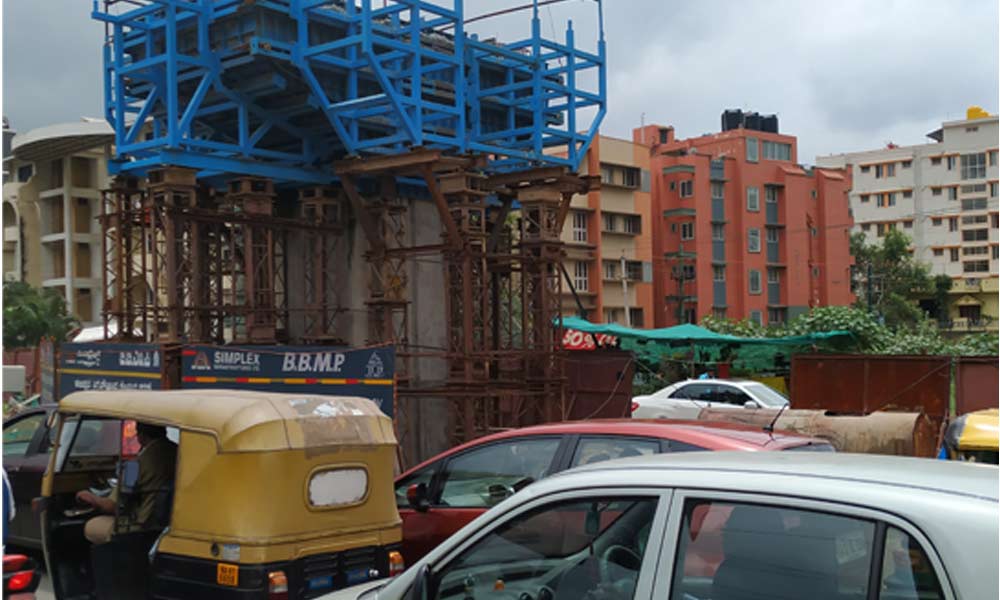 The work won't be completed until 2020 says Santosh Nagaraj, Associate Executive Engineer, BBMP. "Land acquisition and trees' reallocation are the biggest challenges in the completion of the project. For the construction of up ramp and down ramp, some properties have to be removed which is taking a long time. The Trees Department is also not giving permission for the reallocation of the trees which are coming in the way of the flyover. There are some other issues too like traffic diversion. The project will take two more years to complete," he told The Softcopy.
Experts say that the people are worst affected due to the delay in the construction started by government.
Sameer, an Engineerat Centre for Urban and Rural Infrastructure Planning enterprises (CURIPe) said, "The construction work started by government generally gets delayed due to lack of funds, unskilled workmen and unapproved drawings which becomes an inconvenience to the people. Traffic is the worst consequence for the delayed flyover construction."