Toilets for the disabled on BMTC bus-depots, Bangalore Railway Station and metro stations continue to be in a dismal state.
By Shalu Chowrasia
Bengaluru City is unable to provide toilets in public places which conform to accessibility standards for the disabled.
Section 45 of the Right of Persons with Disability Act mandates that all existing public buildings should have accessible toilets for the differently-abled within a period of maximum five years.
Dr. Ramesh K N, a daily metro-commuter who is Orthopaedically Handicapped (OH) and  who travels from Jayanagar to Sandal Soap Factory, says that the toilets should at least be hygienic if not accessible for the differently-abled. He added, "We don't mind paying but the hygiene issue is scary."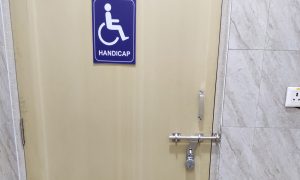 Toilets for differently-abled in majority of the metro stations remain closed. Shri B.L. Yeshwanth Chavan, Public Relations Officer (PRO) of Bangalore Metro Rail Corporation Limited (BMRCL) said "As far as I know all metro stations have disabled-friendly toilets. They remain locked to make sure that only those people who need it are using it. It is always opened if a person is in need."
Mr. Siddalingaiah, State Commissioner for Persons with disabilities, added "The toilets for disabled are reasonably accessible at the metro stations but the maintenance is poor."
Disabled-friendly toilets on railway platforms and bus stations are either unclean or do not comply with the accessibility standards. Bangalore Metropolitan Transport Corporation (BMTC) Bus depots and Krantivira Sangolli Rayanna (KSR) railway station which have a facility of pay and use toilets do not provide standard facilities.
Deepak N, PRO of BMTC said, "Although the toilets are in our jurisdiction we outsource  their construction. We made sure it was accessible for the disabled.  If they're not, the problem will be addressed."
Sijo Varghese, who is paraplegic, said "Even if the toilets are open, they are not all disabled-friendly. The sign-boards do not show that the toilets are constructed according to the standards."
Disabled-friendly toilets on KSR  platforms are unclean and do not have railings for wheelchair users. Commercial Deputy Station Manager of KSR railway station said that every pay and use toilet on the platforms has a separate disabled-friendly toilet and maximum effort is being made to ensure that the railway station is accessible to everyone.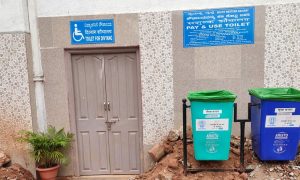 Dr Ramesh K N added that if there was an app where accessible toilets could be located and rated it would be more convenient.
Harmonized Guidelines for Barrier Free Built Environment for Persons with Disability specifies the essential requirements and measurements for a disabled-friendly washroom.  Siddalingaiah said, "Reading of the guidelines is one thing but application is another. There is an application gap which can only be dealt with if more people complain and claim their rights instead of enduring."
Victor John Cordeiro, Accessibility Expert at Samarthanam Trust for the Disabled, said that those responsible for the toilets should be pressurised constantly and the ones responsible for these should be sensitised.