Several BMTC buses in Bangalore have empty first-aid kits which can be dangerous in the case of an emergency.
By Batchu Rushali
The widely used Bangalore Metropolitan Transport Corporation (BMTC) buses lack the medical aid to deal with minor accidents and emergencies, which is putting the passengers' lives at risk.
The Central Motor Vehicles Act 1989, section 138 (4) (d) states that a first-aid kit in the public transport must contain a tube of antiseptic cream containing 0.5% of Centrimide B.P. in a non-greasy base, sterilised dressings, sterilised elastic plaster, waterproof plaster, gauze and elastic bandage for wounds and burns.
Bhavesh Sahoo, a resident of Bangalore said, "While I was getting down from a bus at Goraguntepalya, I fell down and at that time, the bus didn't have first-aid.."
However, BMTC employees say actions of some commuters are also to be blamed. Bus driver Altaf Pasha said that the people break the glass of the first-aid boxes to take the medicines away, whenever they require it, without keeping it back.
Mr. Deepak N., the Public Relations Officer of  BMTC said, "Several buses may not have the first-aid kit for now but when we get to know about it, we  replace it with a new box. Usually the kit is not used by the passengers because they prefer buying medicines from the stores, but emergency situations are inevitable. We make sure to address complaints regarding lack of kits and take action immediately, if necessary."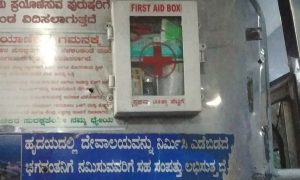 Mr. M.N.Sreehari, a traffic expert in Bangalore explained the importance of having a well-maintained first aid kit in buses. He said, "Every vehicle should have a first-aid kit, particularly a public transport. Ninety percent of the public buses in Bangalore keep medicines which are way beyond their expiration dates. This is equally dangerous. A well-maintained first-aid kit with no expired medicines is important."
Mr. Deepak mentioned that even though the boxes are not filled with basic medical necessities to deal with an urgent situation, measures were being taken to avoid any inconvenience. He said, "The buses are kept under check and well-maintained first-aid kits are installed too. They also go through the fitness test once a year."