The erstwhile Garden City has a problem with floral waste
By Riya Sharma
On the streets behind temples around Kasturba Nagar and Kalidasa Layout in Bangalore, heaps of floral waste create an eye sore and a stink.
The floral offerings considered sacrosanct are not disposed of with the other garbage but are dumped into landfills or water bodies, polluting the lakes. Stray dogs and cattle scavenging around the floral trash further befoul the area .
Murthi, a priest at a temple in Kasturba Nagar, said that a floral waste management program requires funds and extra space, which most small-scale temples do not have.
The Sri Shakthi Kalyan Mahaganpati temple in HRBR layout of Bangalore is one of the first zero-waste temples in the city to implement the floral waste management plant.
Mr. R. K. Mohanto, the temple manager, said, "Segregation and composting at the source reduces the waste generated by at least five to seven tonnes per year. This is our contribution towards solving the problem of landfills."
The temple, Mr. Mohanto said, wishes to lead by example and as a responsibility to the environment has also employed other environmentally-friendly measures.
The city has other initiatives to deal with floral waste, too. Ms. Anupama Harish, a member of the Solid Waste Management Round Table – a public initiative, has helped set up floral waste management systems called 'Shishira' in this and about 15 other temples in Bangalore. These Shishiras recycle the floral waste by composting stale flowers along with banana leaf bowls (donne) to produce organic manure.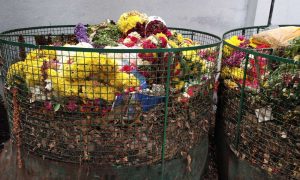 Mr. Ashok Betraj, trustee of the Sri Shakthi Kalyan Mahaganpati temple, insisted that since temples work on public money, it is the trust's responsibility to make the public mindful of the floral waste they generate by informing them that part of their money is spent on its composting.
However, people like Murthi insist that people are part of the problem. He said, "Devotees lack awareness about the seriousness of this issue."
Vasuki Iyengar, a waste management consultant and founder of the social enterprise Soil and Health Solutions, said, "The floral waste chokes stormwater drains and canals".
Even a simple garland, he explained, comes with some polystyrene and other flashy plastic decorations, which clog the canals and lead to a flood-like situation during rains.
"People spend a massive amount of money to purchase these beautiful flowers and the next day these add to the stinking dump near the temples, which the BBMP will not pick up since it is considered holy", Mr.Betraj stated.
Floral waste can be effectively disposed of by making incense sticks out of it. However, 500 kilograms of segregated waste has to be transported to a centralized location for that, Mr. Vasuki stated. The Kanpur-based HelpUsGreen is one such organisation.
Mr. Betraj added that segregation requires an effective collection mechanism which can be very expensive. This is why a project of such a scale has not come up in Bangalore yet.
Organic products made from floral waste require a subsidy from the government to be sustainable and financially viable, said Mr. Vasuki, "If a package of incense sticks made from chemicals is available at Rs. 40, then a package made from floral waste would cost about Rs. 130-140. And who is going to bear the cost of the additional price?"
Chaitra, manager at Hasiru Dala, an organization that is trying to implement an initiative in Bangalore similar to the HelpUsGreen project, said, "We have tested the project on  temples around Nandi Hills, but collecting 500 kilograms of unsegregated floral waste is difficult, expensive and requires more manpower. The temples aren't that well equipped either."
She said that the project is still in the pipeline but there is no deadline for its start.
Until these initiatives are implemented, no floral waste should go out of its respective ward, Mr. Vasuki said, "The intent should be to compost floral waste within the premises of each home, temple or community and reduce the burden on the landfills and water bodies, thereby preventing further environmental pollution."