Only 85 per cent anganwadis in Bengaluru have usable toilets and proper sanitation facilities. Lack of space is a big problem. 
By Manasvi Gupta
The government is unable to achieve its target of making the city open defecation free by October 2, 2019. Department of Women and Child Development (DWCD) reports show that 344 out of the 2420 sanctioned anganwadis in the Bengaluru City still lack proper toilets.
This data includes 1012 anganwadis running in allocated buildings, 643 in government buildings, 684 in rental properties and 81 in other buildings.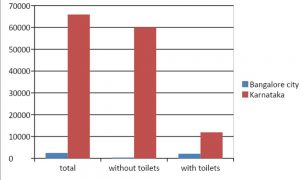 DWCD takes up implementation measures under Swachh Bharat Mission's Umbrella Integrated Child Development Scheme (ICDS), to provide usable toilets in anganwadi centers across the country. Joint Director (ICDS), Smt. Surekha Vijayprakash said, "The main requirement for a toilet to be installed is the availability of space, and Bengaluru anganwadis still cry for space."
Some Anganwadi toilets are not as per the needs of the children and workers. A worker working in a toilet-less anganwadi explained the trouble that the workers undergo. "It is very difficult to work without toilets. Kids are unable to control and hence are forced to urinate in the open. Unbearable odour and scourge of mosquitoes hover over the area. This can cause serious health problems," she said.
Ministry of Women and Child Development releases funds in installments every year under the Anganwadi Services Scheme. Out of the total amount allocated for construction of toilets for the year 2019-20, Rs.12,000 is approved per anganwadi centre (AWC)/ Mini AWC, by the state department for ICDS.
"The amount of funds allocated to basic necessities does not matter. We still won't be able to provide the facility if there is no space," said Assistant Director (ICDS), Mr. Arvind Babu. He added, "We are responsible for the distribution of funds to municipalities and BBMP, who make sure that the resources are appropriately used."
"The provision of basic facilities like toilets is the right of the children and the city has come a long way in achieving its target of 100 per cent toilets in anganwadis and we are still working on it," said a BBMP assistant engineer.
Various NGOs working for the overall development of children in the city partner with the government to ensure proper healthcare for the underprivileged. The CEO of one such organization said, "Proper hygiene is an integral part of the children's growth. Various campaigns are initiated to ensure the same. The NGO targets beneficiaries and helps in educating the workers and children about the need of proper hygiene and ways to keep the toilets clean. The team also trains them to how to use the toilets."
Government has approved 140 more AWCs for the current financial year under Anganwadi Services Scheme for the construction of toilets using Rs.16.8 lakhs, thus heading a step closer towards achieving its goal.