Every day around 50 to 60 cases of ATM Card fraud are filed in the city.
By Yumna Ahmed
Fifty to sixty cases of ATM card fraud are registered on a daily basis at the cybercrime police station of Bangalore.  The station has registered 1,900 skimming cases so far in 2019.
K.N Yeshwanta Kumar, an investigative officer at the cyber crime police station in Infantry road confirmed that ATM Card fraud is trending and a major concern.
He said, "Fifty to 60 ATM card fraud cases come daily to my department and almost 300 to 360 cases in a year. We immediately file an FIR and take 15 days to solve it. In 2018, there were 2446 cases of vishing fraud whereas 2663 cases have been recorded till August 2019."
[media-credit id=83 align="alignleft" width="300″]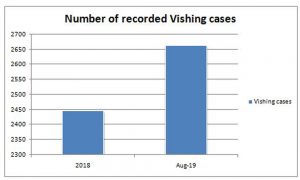 [/media-credit]
Sadhna, a resident of Yelechenahalli had to come to Infantry road to register a complaint. She said, "Rs. 1 Lakh was deducted from my account without my consent and I had to file an FIR regarding it. This is the third time a huge amount has been deducted from my account. The police station takes 15 days to investigate and then the FIR is forwarded to the bank where they look into it. Since there is only one cybercrime police station in Bangalore, I had to travel from Yelechenalli."
Section 66A of the Information Technology Act which was amended in 2009 states that a person is punishable for sending offensive messages. The Information Technology (IT) Act 2000 penalized various forms of cybercrime.
Mr. Kapil Dixit, Supreme Court lawyer confirmed that due to people's negligence and lack of awareness ATM card fraud takes place.
He said, "People need to be aware of it and they should read the RBI guidelines to prevent it. As soon as the transaction happens, they should just block the card by calling the toll-free number and inform the bank."
P.R Kudva, Head of the Department (HOD) of SBI bank informed that anti-skimming devices have been installed to detect the sensor.
He said "People  need to be more careful and should not share their bank details with anyone. If a customer informs the bank within three days then the bank is responsible.They have come up with EMV (Europay, Mastercard and Visa) which reduces the chances of fraud.  As soon as the case comes, the ATM is brought down to avoid  further cases. If the laws are enforced properly then the crime rate will come down."