Victoria Hospital is renovating some of its buildings. And, the noise is affecting patients.
Astha Oriel
The constant drilling due to construction in the Outpatient Department of Victoria Hospital annoys patients and visitors.
Priya, a patient who was sitting in the Outpatient Department waiting for her treatment, said, "I have come here for the treatment, but this constant drilling and noise due to construction is already disturbing me. The constant noise makes me unable to take rest."
Madhu, who has been visiting the hospital for the treatment of her son since the past 10 days, also complains about  noise pollution due to the ongoing construction. Venkatesh, ward boy in the hospital, said that many relatives of patients face the same problem. The Out-patient Department and the Institute of Gastroenterology are both being renovated.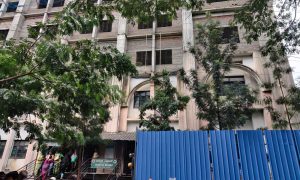 Noise Pollution regulation and control rules 2000, say that the noise in any particular area, shall not exceed quality standards. According to CPCB noise level guideline, only 50 decibels of sound is suitable in silent zones. According to American National Standards Institute, 85 decibels is the set boundary, used to measure sound intensity—as the recommended occupational exposure limit, while the same report says that drilling work causes 120 decibels of noise.
Dr. Ramesh Krishna K, Medical superintendent of Victoria hospital, said regarding the construction of the new department, "The construction from the second floor in the outpatient department, is done for increasing the capacity of the patients in that department."
Mr. Sunitha, regional officer of Karnataka State Pollution Control Board, told that the permission regarding  construction has not been taken by Victoria Hospital from KSPCB.
In 2018, the patients of Victoria hospital told their plight during OPD registration to the then Minister DK Shivakumar, who made a surprise visit to the hospital.
Mr. Anil Bhaskaran, Urban planner, Idea Centre Architects Pvt. Ltd. said, "Acoustic Barricading around the construction can curb down noise in the hospital. He also added, "A clause can be made in the contract, citing that the noise levels should be upto certain level.