Despite four years since the ban on PoP idols, they continue to pollute the city's lakes.
Savyata Mishra
Despite repeated notices and imposition of penalty by the Bruhat Bengaluru Mahanagar Pallike (BBMP) and the Karnataka State Pollution Control Board (KSPCB), Plaster of Paris (PoP) Ganesha idols have made their way to people's homes and the various immersion facilities set up by the authorities.
Till August 3, a total of 114 PoP Ganesha idols out of 23,151 idols were immersed in the East Zone of Bangalore said B.S Prasad, BBMP Chief Engineer. "With Ganesh Chaturthi being celebrated just a day before the figures were calculated, the numbers are expected to rise in the coming days," he added. The BBMP officer said that they dealt with about 1 lakh immersions on the whole, last year around East zone of Bangalore.
KSPCB banned the use and immersion of PoP idols in water bodies of the city, following orders from the National Green Tribunal. This ban was reinforced in 2016. Under the Water (Prevention and Control of Pollution) Act of 1974, "no person shall cause or permit any poisonous or polluting matter into any stream or on land."
The highest number of PoP idols, 91, in the East zone was reported from Shivajinagar which were immersed in the Ulsoor Lake.
Reports of Monitoring of Indian Aquatic Resource System (MINARS) say, Ulsoor Lake is classified as "D" category and its Water Quality Index (WQI) remains 'unsatisfactory'. PoP idols and colours used on them contain harmful chemicals like heavy metals, acids as well as lead. When dissolved in natural water bodies, they cause depletion of oxygen levels, increase in toxicity levels and result in the death of various marine species.
Kavya, a dweller of Pottery town said, "People prefer to buy PoP Ganesha idols because they are cheaper, light-weight and less fragile than clay idols. The colours stick better and look more attractive on plaster than on clay. An eight feet PoP Ganesha idol costs the same as a five feet clay idol."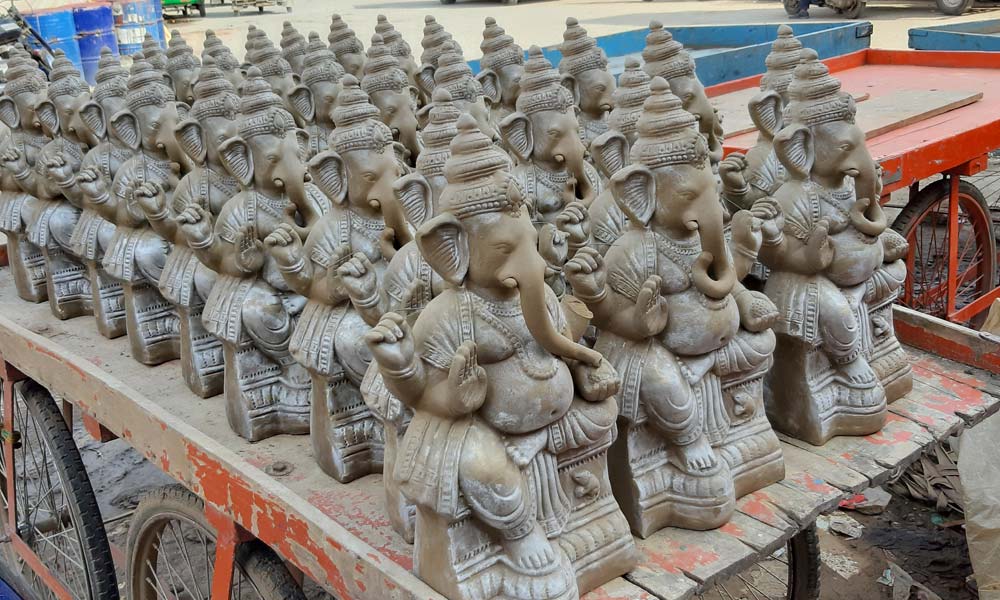 "As a part of the awareness drive, KSPCB had spent about Rs. 70-80 lakh last year in advertisements through T.V., Radio, SMS, newspapers urging citizens to be responsible and avoid using PoP idols," said the Senior Environment Officer (SEO) Prabhudeva.
Mr. Prabhudeva said that the main challenge in total implementation of the rules is convincing the public to stop buying PoP Ganeshas. He explained, "Penalising manufacturers of PoP Ganeshas will not make a difference if they have customers to sell to. Only if the citizens stop buying PoP idols entirely and spend some extra money to stay eco-friendly, our efforts will come to fruition."
Prabhudeva added, "It is also difficult to completely wipe out these manufacturing units since they employ a lot of poor people." He suggested that the government can make arrangements to employ the workers in some kind of temporary work so that they don't go back to making PoP idols every year.
He added, "We urge people to buy smaller Ganeshas as they are easier to handle and immerse. We also encourage them to perform the immersion rites in their homes where they immerse the idols in a bucket and later use the water in their gardens." He said that designated spots for mobile tanks were announced days before the festival so that the immersion process of bigger idols will be smooth.
The number of spots for mobile tankers has gone up to 38 from 21 last year. About 101 mobile tankers were employed in Bangalore East to facilitate the immersion process.
B.S. Prasad said, "Legal cases should be lodged against those disobeying the rules and selling PoP idols. People who buy from these sellers should also be fined to bring this PoP business under control."
Environmentalist Suresh Heblikar, who has been working for years to create awareness regarding the conservation of environment said, "The awareness about pollution and conservation of nature should be created from childhood. Youngsters should take active part in propagating the message. People should come together as a community to celebrate Ganesh Puja so as to reduce pollution."