Electric lines are too close to buildings, in clear violation of bye-laws. Even after notices by BESCOM, the situation is unchanged.
By Niket Nishant
In clear violation of the city's building-bye laws (2004), the buildings and the electric lines in Ashok Nagar – especially on M.G. Road and Brigade Road are separated by a distance much less than what is stipulated. And even after notices were issued by the Bangalore Electricity Supply Company Limited (BESCOM), the situation remains almost the same.
The Bangalore Building Bye-law 7.4 states that between any building and an 11 kV electric line, the minimum horizontal clearance to be maintained is 1.2 metres while the minimum vertical distance is 2.5 metres. However, in Ashok Nagar, a lot of residences, small shops and big malls alike do not follow this rule. In fact, two e-toilet buildings constructed in the area by the Bruhat Bengaluru Mahanagara Palike (BBMP) itself are seen violating these rules.
The Assistant Executive Engineer (AEE), BESCOM E3 sub-division said, "The lines existed before a lot of these buildings came up. We have already served many notices to property-owners in Ashok Nagar whose buildings were dangerously close to the electric lines."
The E-3 sub-division has issued 30 notices so far – 26 to residences and the rest to commercial buildings. All of these were issued to properties around 11kV lines.
The AEE added, "We only deal with lines up to 11kV. Anything above that is handled by the Karnataka Power Transmission Corporation Limited (KPTCL), which has also issued notices because there were properties under 66 kV lines too."
The 11 kV lines are the medium-voltage distribution lines to carry current over a short distance to houses and little commercial spaces, while the 66 kV lines supply mainly to heavy industries and are meant for transmission over long distances.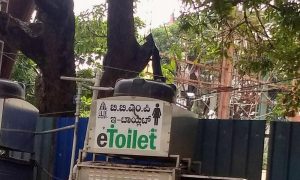 Ms. Deepika, one of the deputies at the BESCOM E3 sub-division highlighted the lack of coordination between the departments, "BBMP allows these buildings to come up and then writes to us asking not to give them electricity if they are violating laws. But we cannot do that. Electricity is a basic necessity."
BBMP, on the other hand, has a different take on the issue. Mr. Syed Rafique at the Electricity Department says, "Issuing notices will make no difference. These lands are worth Rs. 25,000-Rs. 50,000 per sq ft. People will not be ready to give up their lands so easily."
"BESCOM's notice came to me in June," said Mr. Prabhu, a resident of Ashok Nagar. He had been asked to clear the trees around the electric lines near his house within seven days or face action. However, he has not complied with the notice as yet.
Mr. Manohar Pattar, Associate General Manager at the Verve Group says, "Many of these sites have existed for years, and it is difficult for people to fall in line with this law. The practical solution out of this is to have a system of underground cabling for all wires."
Deaths due to electrocution are a major problem in Bengaluru. Between 2014 and 2017, there were a total of 404 fatal accidents caused by electrocution. Also, as of June this year, there have been 14 deaths due to electrocution.