Number of bikes towed from 'No Parking' zones spikes in Bangalore, hampers business of bike rental companies
Nikita Arora
About three to five rental bikes are towed in Bangalore city every week because of being parked in 'No Parking' zones. These bikes are owned and regulated by the bike rental companies who pay a sum of Rs. 1650 per vehicle to recover them from the Bangalore Traffic Police (BTP).
The customers park their rented scooters on flyovers, congested roads and no-parking zones as the companies provide keyless scooters which can be picked up from and dropped off at any location. The Rules of the Road Regulations, 1989, states that the vehicle shall be parked "in such a way that it does not cause or is not likely to cause danger, obstruction or undue inconvenience to other road users" or in a place where the "parking is indicated by any sign board or markings." Manjunath, Head Constable at Traffic Management Centre (TMC), Bangalore said, "Since past one year, a total of 41,760 two-wheelers have been towed in the city and a fine of Rs. 3,38,95,650 has been collected." The companies say that every week around three to five cases of bike towing take place and the customers are fined for it.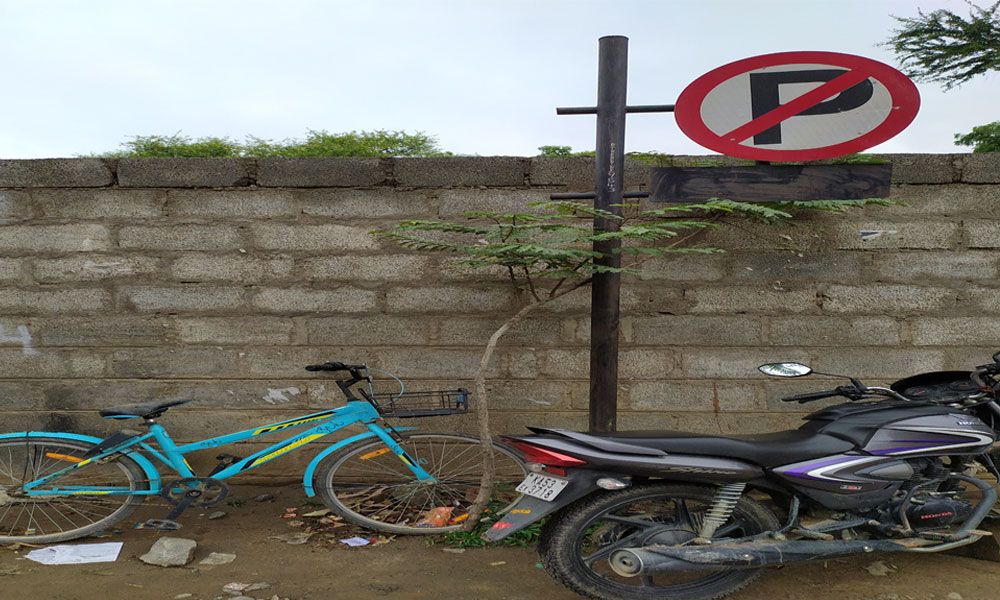 Bounce's Strategy Officer, Ankit Sharma, who works at the CEO's office, said, "The cases of bike towing are reducing day by day. Roughly, we have around three to four cases in a week". He added that to check the theft of helmets and bike parts they have installed sensors that do not let customers end a trip till the helmets are returned.  Dharshika Singh, marketing in-charge, Yulu said, "The company provides pick up and drop at Yulu Zones only that helps in reducing such cases. "This is why we don't maintain any towing records," she said.
The fines levied by the companies on the customers for parking vehicles in the no-parking zone starts from Rs. 500 whereas, the amount paid by the company to recover a towed vehicle is Rs. 1,650. Sub-inspector of Indiranagar Police Station, Prashanth, says, "Companies are not at fault if people park in the wrong place. It is the people who need to be aware about this."
Gitesh Narula, a software developer, who commutes daily via rental bikes, said it is a matter of convenience for him. "I am given this option of picking up the vehicle from anywhere and dropping anywhere. So, as long as I have parked in a place where the road is not blocked, it shouldn't be a problem,"
Incidents of parking at prohibited places continue to occur despite the companies levying fine on their customers. Traffic Expert, M.N. Sreehari, said, "The traffic police as well as the companies need to explicitly come up with the solutions which do not allow commuters to park according to their own whims and fancies."