People look to other, not certified sources.
Jagriti Parakh
Various meat shops across Bengaluru city are illegally selling uncertified meat to customers due to shortage of butchered animals from Bruhat Bengaluru Mahanagara Palike (BBMP)-authorized slaughterhouses.
On an average, there is a daily demand for over 8,000 animals in Bengaluru. The combined output of all three BBMP-authorized slaughterhouses is around 1,800 small and large stocks per day, which is less than a quarter of the required number. Despite the potential health risks, this huge gap between the demand and supply necessitates buying uncertified meat.
[media-credit id=62 align="aligncenter" width="1000″]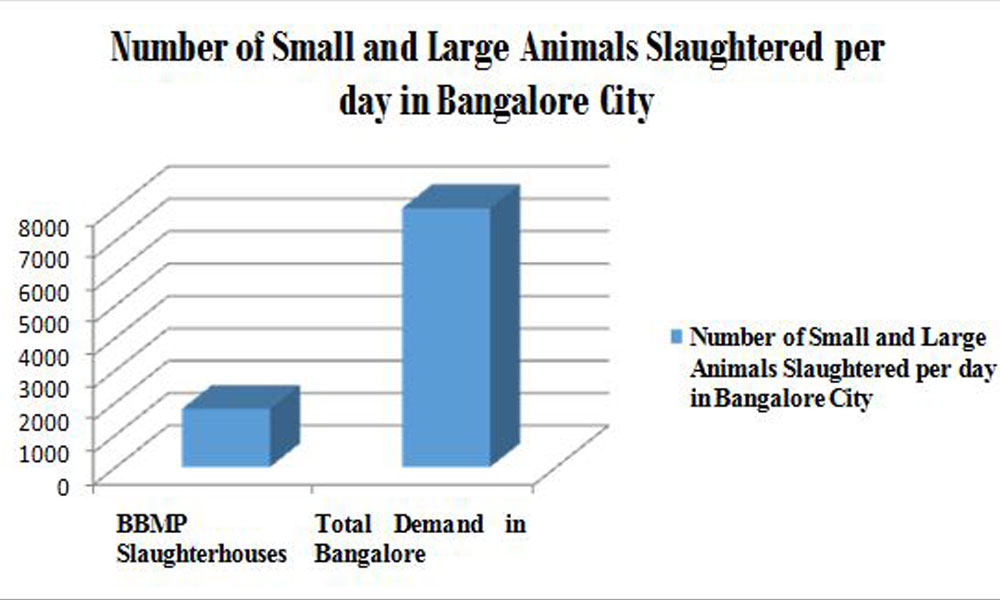 [/media-credit]Sarfaraz Khan, a meat shop owner near Banashankari Bus Stop said, "We slaughter five to eight sheep and goats every day. After we slaughter the animal, we peel off its skin, clean the needed parts and have the meat ready for sale early in the morning. It is impractical to take the animals to the slaughterhouse and stand in a long queue, as they can't handle the rush."
Not just the meat shop owners, even the officials at BBMP agree that it is an unworkable task to strike a balance between demand and supply of meat, with the limited technological assistance at the existing slaughterhouses.
Superintendent at the Civil Meat Production and Processing Centre said, "In a city as densely crowded and congested as Bengaluru, it is very difficult to make effective arrangements for humane, hygienic and safe methods of slaughter at small meat shops. At the same time, it is a colossal challenge to meet the ever-increasing demand for meat with the limited technological assistance at the traditional abattoirs."
Consumers deem it redundant to buy verified meat all of a sudden, because they aren't facing any health related problems so far.
A regular customer at a meat shop, Sachin Shankar said, "It is unfeasible to check for stamps on the meat we buy every day. We have been buying meat from the local meat shop owners all our lives and we haven't faced any health issues so far."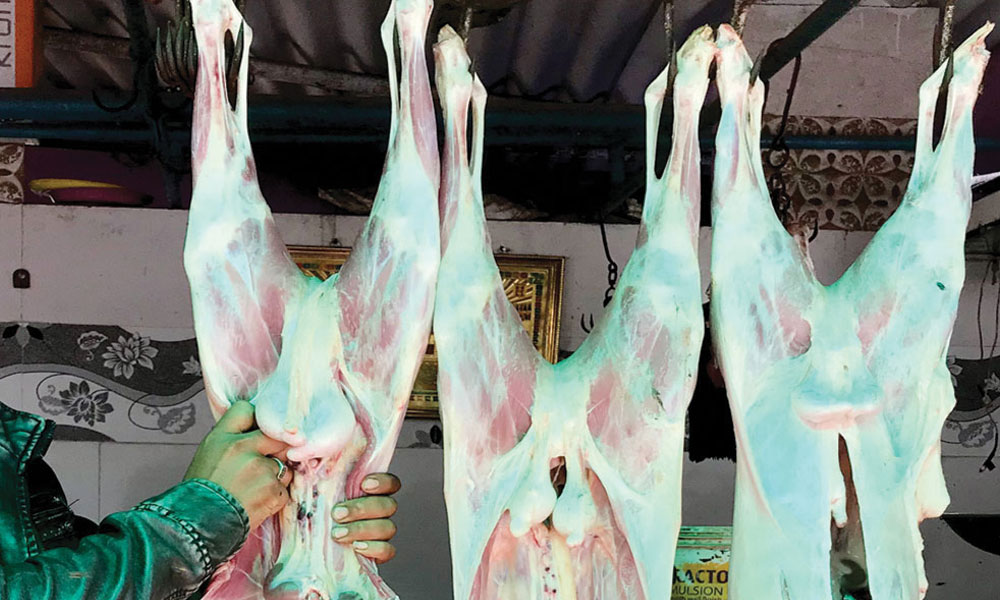 On January 30, 2018, BBMP Commissioner Manjunath Prasad issued a public notice against illegal, unauthorised slaughtering or animal sacrifices at public places. Even beef, mutton or pork meat shop owners who have obtained trade licenses are authorised to only sell meat of animals slaughtered at BBMP's slaughterhouses and not slaughter the animals themselves.
BBMP has three abattoirs within its limits for slaughtering of animals for mutton, pork and beef at Tannery Road, Pottery Town and Usman Khan Road, with the combined capacity of around 1,800 small and large stocks per day.
A team of BBMP's veterinary doctors ensure that only healthy, physiologically normal animals are slaughtered for human consumption and that meat from animals is free from disease, wholesome and of no risk to human health.
Senior Veterinary Inspector at Tannery Road Slaughterhouse explained, "The safety-checks include ante-mortem and post-mortem inspection procedures. The disease and management history is recorded and reported on A/M and P/M inspection cards. Only after we give approval and a certificate, this meat can be sold or consumed. We put stamps of edible ink on meat that is fit to consume."
While the BBMP veterinary doctors affirm that there is a potential health risk involved, experts argue that even the meat shop owners are cautious while butchering an animal.
Chetan L. Hanchate, Director, Centre for Processed Foods explicated, "In India, we have a traditional way of cooking meat. The entire process from boiling and marinating to cooking the meat makes it safe to consume. The meat shop owners are also cautious while butchering an animal. It is unnecessary to penalise slaughtering or animal sacrifices by meat shop owners, as the BBMP abattoirs cannot slaughter so many animals in a day."
Dr. Shashi Kumar, Joint Director, Department of Animal Husbandry, BBMP said, "We are not acting strictly on the public notice issued last year because of the limited supply at the three abattoirs, but with the commission of the modern abattoir, we will be able to meet the demand for meat. We are also working on revising the fines imposed on the defaulters, which is Rs. 100/- presently. It has been so ever since 1990s, which is why the meat shop owners do not take the fines seriously."
A modern abattoir is being built on a 40-acre site at Harohalli, near Kanakpura Road, which is expected to be commissioned by 2020. With the installation of a modern slaughterhouse, the capacity is expected to increase.