Unused escalators at Vijayanagar and Hosahalli metro stations leave no option for aged and disabled commuters but to climb stairs.
Shivani Verma
Escalators have been installed at Vijayanagar and Hosahalli metro entrance gates, but have not yet started working. They were installed one and and six months ago respectively.
Aged and disabled along with the people carrying heavy luggage are most affected because of the non-working escalators. Sister Priya, a passenger who is in her 50s, is a teacher at St. Joseph's convent school and travels daily from Vijayanagar metro station to reach her school. "I will be glad if the escalator starts working soon, it is hard for me to take the stairs at this age," said Sister Priya.
The escalator at Vijayanagar metro station gate A entrance, which leads to the Post office side is not yet functional. "It has been put in place a month ago and nothing has been done in this regard," said Raju, a security guard at the station.
In Hosahalli metro station, gate C's escalator is a work in progress. Rajendra, a security guard who works at Hosahalli metro station said, "it's been six months since the escalator is under repair, people usually ask me when it will start working, time and again. It is difficult for me to answer every passenger."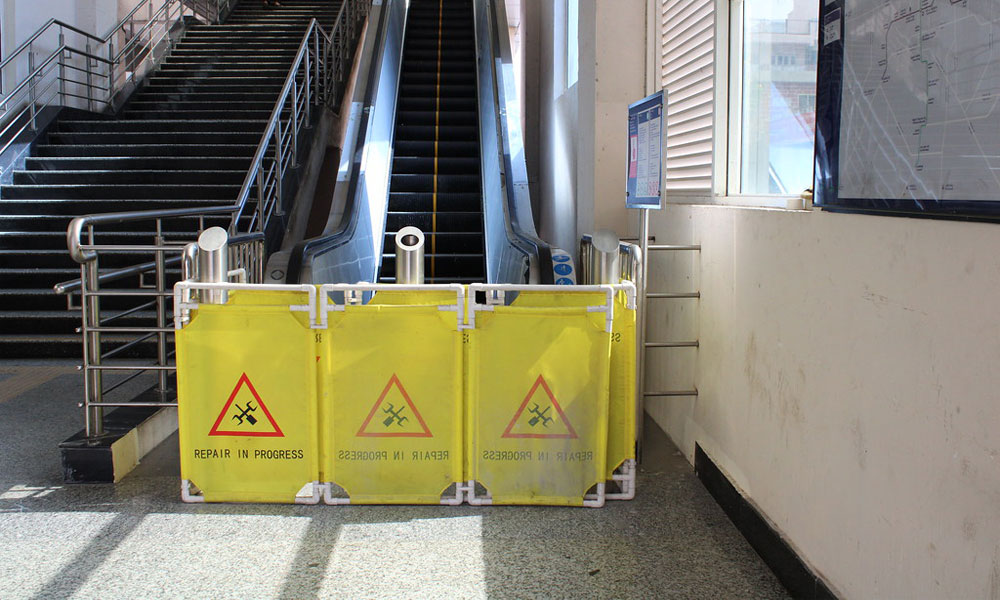 "Disabled people face inconvenience as they have to take entry from different gates to get the lift," said Anchalesh Kumar, another security guard. "It should start working as soon as possible because it has been some time now since the escalators have been put in place."
The Bangalore Metro Rail Corporation Limited (BMRCL) is working on many metro rail projects and the escalators which fall under them are yet to be started. "The escalators have to go through a safety test, followed by getting a licensing authority and then it will start working." said B.L. Yeshwanth Chawan, chief public relations officer at Namma Metro. "We are still working on it and will help the commuters at the earliest," he added.
"People have to rush through the stairs and I see old people facing trouble climbing them. I hope this starts working soon," said Vijay Kumar, a passenger.
Both the metro stations, which are constructed at an elevated pathway, started functioning in November, 2015. The metro stations, which come under purple line, have a daily ridership of four lakh, said a BMRCL official.
V Ramesh, HOD of civil engineering department at Rajarajeshwari Engineering College said, "There are only two reasons for the delayed work of BMRCL. One being, the daily ridership of both Vijayanagar and Hosahalli is lesser than any other major metro stations like Majestic or MG Road. Therefore, they are delaying the process of actually starting the escalators as the commuters are minimal in those stations. Second, the power consumption is more when escalators are working. So, they are taking their own time to actually start the escalators."