Some people jog and help clean the streets while younger ones resist the trend.
By Jignasa Sinha
Bangalore, April 10, 2019.
Plogging is a global trend: it includes jogging and picking up litter at the same time. It's a great exercise and it helps cleaning up surroundings; people who do this activity are called ploggers.
Bangalore has embraced this; there are currently more than 500 ploggers in Bangalore. Groups like Fit I am, Burners, and League of My Own are famous ploggers' groups – last year alone, they cleaned up 30,000 kg of trash in Bangalore,  creating a World Record, according to the Guinness Book.
Dr Rajni Singh, a general physician says "Plogging is great exercise and is feasible for any person. I have witnessed people with heart conditions and diabetes do plogging and benefit from the exercise. It involves jogging and stopping to bend and pick up litter and jog again. This cycle keeps the body healthy and is a good exercise to reduce pollution and obesity."
Youngsters, in general, are still not indulging in good health practices and avoid the "clean India" initiative. Plogga-India, one of the ploggers group in the city says:
"Our Plogging events usually take place in public spaces like parks, housing societies, and market areas – which are usually littered with waste. These events have a dual purpose: raise awareness against single-use plastic pollution, and take remedial action in the form of plogging. We carry two separate bags, one for recyclable items, and another for non-recyclable waste. We identify the waste and pick it up separately. The main purpose is to segregate waste at the source"
People in the city who have registered under this activity go for plogging every weekend. The Fit I am ploggers community says, "We have events every weekend, most of the people who attend these events belong to the age group 30-45, we try to push our campaign through social media and other advertisements but don't receive enough support from the youth."
Plogging is a great exercise which includes squatting, picking up different weights and jogging. Plogga-India states that the people who jog normally usually cover less distance, and ploggers on an average cover more distance than these people. It adds a variety to workouts and helps people beautify the landscape around them.
[media-credit name="Plogga India" align="alignleft" width="288″]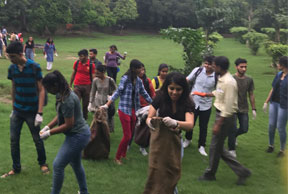 [/media-credit]