The participants admitted that they were mostly bribed to join the rally.
By Aiswarya Sriram.
Bangalore, April 8, 2019.
A road-show was conducted for the contestant from Bangalore Central division, Rizwan Arshad today. His road show in Ahmad Nagar saw a great rally today with around 1,000 people participating.
Rizwan Arshad is standing against P.C. Mohan from Bharatiya Janata Party (BJP) and independent candidate Prakash Raj in Bangalore Central division.  Rizwan Arshad didn't win the 2014 Lok Sabha Elections, but the ward of Azad Nagar is very confident that the Congress will win this time. Azad Nagar is a Muslim-dominated constituency.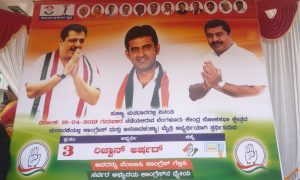 Ameen Saheb, a resident says, "The BJP party leader never came. I don't know who the constituency head is. He has never come to speak to us. He has never done anything for us. He didn't develop roads. The condition is still the same as it was five years ago."
A lot of women participated in the rally and they claimed that they had been bribed to participate in it. Gangamma, a participant who had joined the rally from Kasturibai Nagar says, "They called us and told us that they will give us Rs. 200, that's why I joined the rally."
Small children were also seen participating in the rally.  The women were carrying small kids. In the rally, there was a woman  named Nasreen, who participated in the rally carrying her eight months old baby – they were paying her Rs. 300.
Bhagyamma, a resident of Azad Nagar said, "Even if they don't pay us, I will support Congress only and I am willingly participating in the rally."
C. Govindraju, the Congress party leader said, "This time, we will definitely win. We have constructed Indira canteens and hospitals for people. This will help us win."