The former Chief Minister of Karnataka Siddaramaiah was live on Twitter – answering questions that were posted using the hashtag 'AskSiddaramaiah'.
The Leader of Congress Legislative Party in Karnataka touched on many topics ranging from the Rafale planes deal to questions about Narendra Modi, to his expectations of the upcoming 2019 elections.
Siddaramaiah says"We are expected to get 150 seats on our own and our regional allies will get another 150. Together we will form a government at the center. People are fed up with Modi's policies. In Karnataka, we will get 20-plus seats."
[media-credit id=43 align="alignnone" width="288″]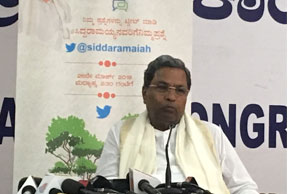 [/media-credit]
Talking about the Rafale deal, he said, "the manufacturing was earlier promised to Hindustan Aeronautics Limited (HAL) under the UPA government, but now it has been given to Ambani. I don't understand on what ground it is given to Ambani."
He also questioned the Modi government on why did they decrease the number of jets from 126 to 36. He promised that if Congress came into power, they will try to solve the issue and change the agreement if possible.
He commented on the Modi government saying that Modi as a Prime Minister believes in a centralized government, whereas the opposition leader Rahul Gandhi believes in a decentralized government.