By Jignasa Sinha
Bangalore, March 21, 2019.
An open day is an initiative by an eminent institute to invite everyone and present their work. This takes place once every year. The Open Day of at the IISc will be conducted on March 23, and  start at 9 a.m. and will continue the whole day.. This year IISc has introduced norms to make the event eco-friendly.
Prof.Y Narahari, chairman of Computer Science says, "this year the event will be different. We will present exhibitions with deep science technology in computer vision and artificial intelligence (AI) robots."
This year the college has opened up an online portal for registration. Narahari adds," we wanted to introduce online registrations and this initiative has been a success, as 3,500 people have registered through the  portal so far."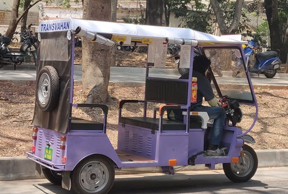 To support the "Green Open Day" the college has restricted the use of transportation like cabs and buses. These won't be allowed inside the campus gate. Prof. Kaushal Verma , chairman of publication cell says, " we want the event to be different and will use our own e-vehicles to promote science. We have brought 15 Transvahan to the campus. This will be the first time these e-vehicles will be used in any event."
The Transvahan can carry only 4 people at a time. With a crowd of more than 4,000 people it will enforce the visitors to walk inside the campus that is spread across an area of 371 acres.
Mr.Chandrashekhar M, security advisor, said, "We want people to explore the campus by using the pedestrian pathway. We have also banned plastic."