Sadly, 55 percent of the world population does not have access to social protection policies.
By Riya Sethi
Bengaluru, March 14, 2019: Over 4 billion people around the world do not enjoy the benefits of social protection and are left out of this global security system. Social security is a human right and is one of the major goals adopted under the Sustainable Development Goals (SDGs). All the policies and programs related to childcare benefits, maternity protection, unemployment benefits, sickness benefits and healthcare benefits come under these.
[media-credit id=43 align="aligncenter" width="800″]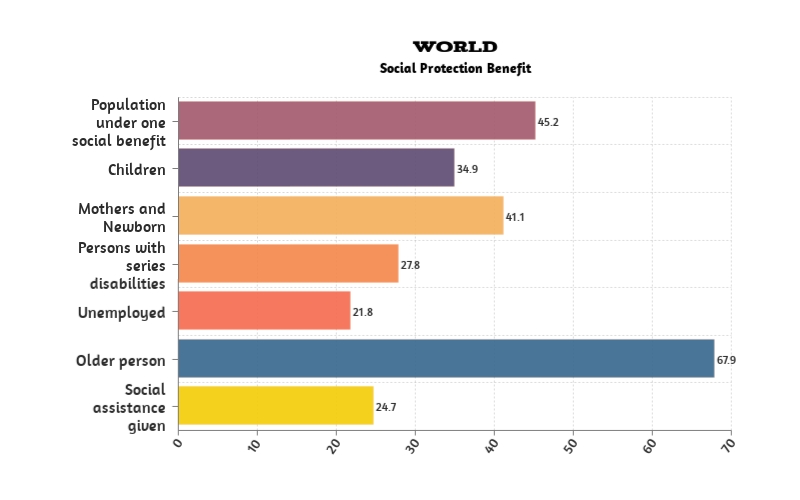 [/media-credit]
According to a report by the International Labour Organization (ILO), 55 percent of the global populations are not protected. Over 1.3 billion children do not enjoy these benefits, the majority of whom are residing in Asia and Africa. This is because of the under-investment by the countries in their social protection policies. The government of these countries spends only  1.1 percent of its GDP on child protection.
The continent which covers the least amount of people under this program in Africa, which covers only 17.8 percent of the population. Africa is followed by the Arab States which spend 27.4 percent and then comes Asia, with 38.9 percent. Some of the European countries give benefits to most of their population, covering as many as 84.1 percent of the population.
Shachi Garg, who is studying International relations said, "These policies are not being rightly implemented by the respective governments. We need to improve social protection programs and try to cover as many people as we can under it." She also mentioned that with the correct implementation of the program, we can increase the country's living standards as well and this, in turn, will also help improve the GDP.
A report by the World Bank says that the organization has lent up to $14.67 billion to the countries for social protection programs. By 2030, the world leaders want to achieve the Development Agenda which consists of social protection policies. As per the agenda, almost everybody should be covered by at least one of the social protection policies.
Mudrika Pethkar, a student of Northeastern University in the USA said, "People enjoy the benefits of these policies but the majority of the population do not even know about the existence of these policies." She also mentioned poor people who should benefit from it the most are generally kept away because of lack of awareness and ignorance.