Mysore artist is attempting to restore the long-lost art form of Ganjifa painting on card sets.
Mysore Ganjifa paintings were losing their recognition when, in  1981-1982, artist Raghupathi Bhat got through 200 years old original Ganjifa paintings and was extremely attracted to it. Bhat was fascinated with the idea of how the Ganjifa hand-painted card game stood the test of time with its undying beauty. Later, Bhat tried all his efforts and recreated large  Ganjifa paintings. He later started conducting workshops and trained hundreds of artisans.
Ganjifa Art Museum was set up in Sri Rangapatna in 1991 and was later moved to the  Mysore Wellington house in 1994. This was the first Ganjifa Museum founded by Raghupathi Bhat – but the museum was later shut down.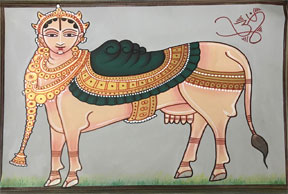 According to Vidya, daughter of Bhat and an artist herself who studied Masters in visual arts mentioned", I was born and brought up in my father's colourful world and naturally, I started following his path. After my education in visual arts, I started learning Ganjifa from my father."
She also added, "Art in India needs more attention".
Raghupathi Bhat makes his colours using fruits and vegetable dyes that are rich in minerals. He has successfully recreated a huge number of Ganjifa paintings and cards
Bhat also attempts the pass the art form down to the next generation. Raghupathi Bhat said," I now have many students here whom I teach the art form using organic colours. I realised years back how the art form was losing its fame. Rewards do not matter as much as the work I do, as it makes me the happiest. Bhat's work is on display here.
A kalamkari painter from Bengal said," Ganjifa is one beautiful art form. It is very important for painters and artists like Bhat to restore different art forms of our country as art is what makes India special."