The new app Sameer combines a feed for air quality index with a system of complaint and redressal.
By Ayanti Bera
Bengaluru, Jan 24, 2019.
The Central Pollution Control Board (CPCB) has launched a mobile application called Sameer, which means, a gust of wind in Hindi, as a step towards checking the degrading air quality of the city.
According to the annual report of the Ministry of Environment, Forest and Climate Change, "Sameer is an app that provides hourly updates on the National Air Quality Index (AQI) published by CPCB. Air Quality Index is a tool for effective communication of air quality in single numbers, nomenclature and color."
The pollutants monitored are sulphur dioxide (nitrogen dioxide , particulate matter (PM10 and PM2.5), carbon monoxide, ozone, etc…
The most interesting part of the app is that it has been downloaded over 50,000 times on Google Play Store is the public complaint section. The report says, "Public can post complaints with pictures and provide valuable suggestions through the app."
Anirudh Garg, a user and a resident of the city, says, "It is a very effective app for getting data of air quality index of almost all the cities of India, and can also lodge complaints against air pollution. But to make it more effective, the concerned officials work phone numbers should be provided. Moreover it should be mandatory for that number to be on Whatsapp".
Shilpi Gautam, another user, has a contrasting opinion. She says, "I complained twice about an ongoing dusty construction site in my neighborhood. They registered the complaints and gave me a number to contact if no action was taken, but when I called the number, no one picked up."
Since the app is directly managed by the Central pollution Control Board in New Delhi, the zonal offices in each city is not associated in the workings of the app. This may be a reason of the miscommunication between the users and the concerned officials.
The official CPCB website has a feed for real-time data on air quality index across the country. But the app has made it more accessible to the common user, and with a terminology that is decipherable by all.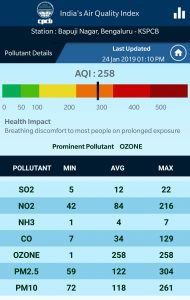 There are six AQI stations in Bangalore – BTM Layout,  Bapuji Nagar, Jayanagar 5th Block, Hombegowda Nagar and Silk Board. The app shows the AQI recorded in the station nearest you.
Gayatri, a student of environmental management, says, "Air pollution is everywhere today , if there is an app that tells us and keep us updated , whoever has a Smartphone can be aware and would be updated about the air quality standards . If the government works with private startups and entrepreneurs then people can be educated about the harmful effects of pollution."