Parents are unaware on how to decrease the usage of technology like mobile phones, laptops and gaming consoles by their kids, says a recent survey by the National Institute of Mental Health and Neuro Sciences (NIMHANS).
By Aiswarya Sriram
Bangalore, Jan. 17, 2019: The survey was conducted by the Services of Healthy use of Technology (SHUT) clinic in NIMHANS. This is the only de-addiction centre for over use of technology in Bangalore. It was started in 2014.
Manoj Kumar Sharma, Professor of Clinical Psychology who runs the SHUT clinic in NIMHANS, says, "People do talk about it. Awareness is there but advice is not. . They don't know the do's and don'ts on how to help their kids away from technology addiction."
[media-credit id=30 align="alignleft" width="244″]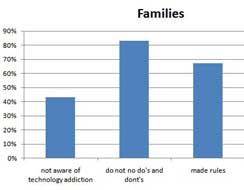 [/media-credit]
He added that most of the patients who come to the clinic belong to the age group of
15 to 20. H he says teenagers are most prone to the technology addiction. He added that the youngest patient who came to the clinic was 11 years old.
300 families were surveyed in Bangalore, using door-to-door approach for technology use in family as well as do's & don'ts of technology use. Among them 43 percent of families told for not being aware of what to tell the kids for healthy use of technology; 83 percent of families  do not have do's and don'ts for the tech usage at home; 67 percent of families  have tried to make rule for themselves. Everyone knew that it harms their children, in terms of spending more time on screen, not talking to parents, and not having or postponing food intake for using mobile phones, laptops and other technology.
Aparna Iyer an architecture student says, "Yes, there is a thing called social media addiction, and for keeping kids away from the technology, we should indulge them in more physical activities and the family should spend more time with their kids. More of playing in the outdoor will never make Jack a dull boy."
Meera Sriram, mother of a 15-year old teenager says, "Kids who are not playing with real friends and gazing at screens for a long time spoil their mental and physical health. Allotted time slots, and keeping control on what they see, educating them about radiation and telling them not to keep mobile phones close to their body, will help them understand the ill effects of technology."
As a solution to technology addiction, the SHUT clinic has come up with 'Digital Detox app', which is currently available on android phones. The app tells the side effects of using too much technology and tracks your phone usage, thus forcing you to give up your phone and indulge in physical interaction.