The eighth edition of the popular pop culture festival celebrated recently deceased Lee's journey.
By Rudrankar Raha
Bengaluru, Nov. 23, 2018.
The Bengaluru Comic-Con paid homage to Stanley Lieberman who passed away on November 12 2018.
"Stan Lee is the greatest pioneer in the world of comics as we know it," said Satrajit Choudhury, a comic artist. "He started his career in comics by 1937 in Timely Comics (which later became Marvel), but as a helping hand – supporting artists with filing inks, writers with proofreading, and so on."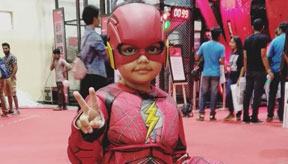 "He wrote his first comic book in 1941- a Captain America title. He rose in the ranks between 1941 to 1972 to become editor in chief, while serving in the U.S. Army during WW2.
During the 1950s superheroes revival in the comic industry, Stan Lee created the Fantastic Four, and this was the beginning of his fame. The then went on to create Spiderman, Hulk, Daredevil, and more.
Starting in the 1990s, Marvel comics ventured into movies, and all characters created by Stan Lee finally came together to create a Universe," added Choudhury.
"There are a plethora of cosplayers (Costume players) in this year's Comic-book festival. This time the basic themes are Superman, Ironman, Spiderman, and so on," said Mahima, a coordinator at the event.
"Cosplay is one of the important aspects of the comic-con and we are happy to celebrate Stan Lee's work through it," added Mahima.