The Karnataka Forest Department has banned the usage of plastic bags in nurseries.
Bengaluru, Nov. 22, 2018
By Virendra Singh
Recently implemented, the drive is yet to be enforced. Bengaluru has some areas known for nurseries and horticulture practices, such as Siddapura and Lalbagh. Some nursery owners are saying that they have not been informed of the ban by the Forest Department.
The alternative option to plastic could be growing and manufacturing bags from natural plants. But, this is difficult in the city because of a lack of water resources. Almost 85 percent of nurseries have been shut down.
The nurseries in the Siddapura area are shut down by 80 percent due to lack of manpower and technology for recycling plastic. The government gave an option to use coconut coir or jute. Ranjana, owner of Krishnendra Nursery says, '' we have not been notified about this step. Coconut coir is neither durable nor viable after six months whereas plastic bags can last up to five years. Curbing on these things will impact our business directly. Initially, plastics cups were replaced by plastic pots and now plastic pots will have to be replaced by coconut coir, even though plastic pots are recyclable''.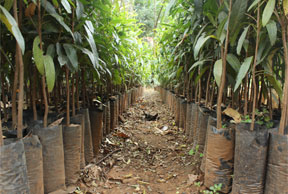 ''Government should make nursery people aware how to recycle the pots. We give it to rag pickers. Coconut coir has to be processed, sterilized, molded to give proper pot shape.
But, coir still has to be covered by plastic, so that the water cannot leak. Before we had to spend five rupees for each plastic bag, but now we have to spend 50 rupees for one coconut coir. It will increase the price of plant saplings which will result into decline in our sale" she added.
S.Sudha, a customer who was buying plants from the nursery, said "the plastic is easy to manage but it is highly toxic. It's going to be hard to manage the plants in alternative pots which need more maintenance – but it's worth it. "