The fine amount collected up to July this year amounts to Rs. 2, 85,500
Bangalore, Nov. 21, 2018.
Krantivira Sangolli Rayanna (KSR), previously known as Bengaluru City Railway Station, has seen an increase of about 45 percent on an average per month in vehicular offences under The Motor Vehicles Act, 1988 or IMV Act, this year, according to data provided by the KSR.
The data shows that till July, this year, 1,869 people were reported and convicted under this act for offences like driving without a proper license or without a helmet, triple-riding, under-age driving, misbehavior with police, parking in illegal spaces, disregarding traffic signals and other traffic rules.
C.B. Padashetty, Assistant Sub Inspector of the City Railway Police says, "It depends on public mood. College students, especially, needs to be made aware of tripling riding and helmet rules."
According to the data, there was a decrease in the percentage of vehicular offences by almost 50 percent from 2016 to 2017 when the number of convicted offences went down from 5,775 to 2,225.
[media-credit id=32 align="aligncenter" width="800″]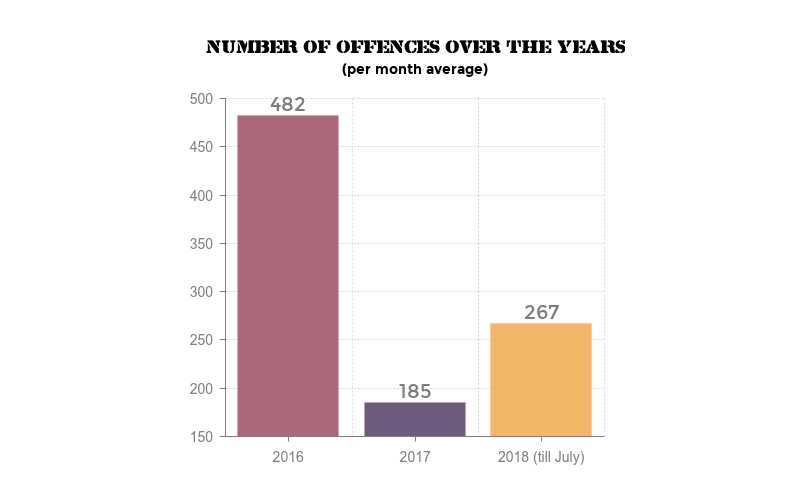 [/media-credit]
The total amount of fines collected by the City Railways Police, in the past two years amount to Rs. 8, 27,900.  ASI Padashetty also adds that in spite of numerous speakers all over the station, spreading public awareness about finable offences, there does not seem to be much shift in the public behavior.
Bharati D., Sub Inspector of City Railway Police says that the increase in population and crimes in general may have led to the increase of these vehicular offences inside the railways.
R-Track, an awareness program, initiated by the City Railway Police, aims to educate auto drivers, cab drivers, coolies, and police officers about the traffic rules and regulations, and inform them about the finable offences under the IMV Act, says SI Bharati D. The first program took place from December 2017 to June 2018.
According to the SI, the second edition of R-Track awareness program is on the cards. It was expected to begin by the end of 2018. But till date, no initiative of such program has been taken.
Even though these offences have, so far, not caused any fatality, the alarming numbers of offences puts the lives of the hundreds of people that visit the station each day at risk.