PM will inaugurate projects all over India on Thursday
Bangalore, Nov.21, 2018
Six districts in Karnataka will soon get piped natural gas (PNG), Ajay Kumar Jindal, General Manager of Gail Gas said. The PNG's will be installed in Davangere, Haveri, Koppal, Ramanagar, Raichur and Bagalkot.
He said that of the one lakh connections in Bangalore city, about 35,000 connections were operational. The Petroleum and Natural Gas Regulatory Board (PNGRB) has spent Rs. 1000 crores on pipelines in Bangalore, he said, adding that a similar sum was needed to cover the city.
Prime Minister Narendra Modi will lay the Foundation Stones of City Gas Distribution Projects (CGDP) in 65 Geographical Areas in 129 districts on Thursday.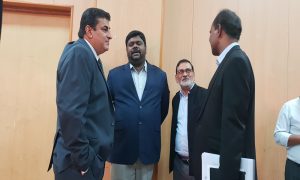 Santosh Sontakke, director of Maharashtra Natural Gas limited said, "Natural gas is a superior fuel as compared with coal and liquid fuels, on account of several reasons. He said that India's energy basket is 6.2 percent as against 23.4 percent globally. Large numbers of people still cook using solid fuels such as wood, crop wastes, coal and dung-cake. These fuels produce high levels of household air pollution, with a range of health-damaging pollutants which can be 100 times higher than acceptable levels for fine particles."
Rahul Tandon, State Head of Bharat Petroleum Corporation Limited (BPCL)  explained that a significant number of people die prematurely from illness such as pneumonia, stroke, heart diseases, chronic obstructive pulmonary disease (COPD), lung cancer due to household air pollution.
World Health Organisation (WHO) data released in May 2018 shows that India is14 out of 15 world's most polluted countries in terms of particulate matter.