Mandatory rainwater harvesting is still not installed everywhere it should to save water in Bangalore.
The Bangalore Water Supply and Sewerage Board (BWSSB) surveyed over 50,000 buildings for lacking to install rainwater harvesting system (RWH), -the installation of which was made mandatory in 2009. It was stated that 'it is a mandatory requirement for adoption of RWH for every owner or occupier of a building having a sital area of 60'x 40' and above, and for a newly constructing building measuring 30×40 and above.'
B.M. Manjunath, the Public Relation Officer (PRO) of the BWSSB, said, "55,000 buildings were surveyed for the installation of RWH, and over 1 lakh structures have been implemented to install the system. Most of the commercial buildings do not have an RWH installed and they are being fined for it. But, recently, more and more building enterprises are adopting the RWH system."
[media-credit id=43 align="alignleft" width="288″]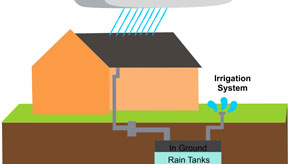 [/media-credit]
He said that RWH systems should also be set up in residential complexes and with the adoption of RWH, the total quantum of water that can be saved is 10,000 liters per day.
According to an article published on the website of the Karnataka State Council for Science and Technology, 60,000 buildings have BWSSB water connection, but only 43,000 have adopted rainwater harvesting techniques.
A.N. Yelappa Reddy, an environmentalist, said that "The installation of rainwater harvesting systems will definitely reduce water dependency but without each individual's involvement nothing will work. Every individual should understand the benefit of that. People are spending money on buying the water either from BWSSB or private contractors, but with the setting up of RWH systems they will be able to save their money and  natural resources."
"The BWSSB has, in past, imposed fines on many buildings for not having RWH system installed. It is most important that the residential buildings install the system as they are the ones using  most of the water."