Goldsmiths from all over the state underwent a six-month training to polish their skills.
Bangalore, Nov. 21, 2018.
Over a thousand goldsmiths earned a certificate from the Gem and Jewellery Skill Council of India on Wednesday.  The goldsmiths came from all the state to learn new skills, polish existing ones, and to familiarise themselves with new equipment.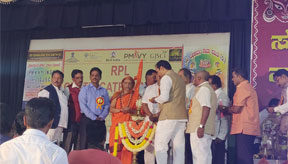 BS Manoharam, a goldsmith from Bellary who underwent the six-month long training, told The Softcopy, "The goldsmiths around Karnataka have been suffering for ages due to loans and lack of knowledge about the latest equipment. After the training, we have all the knowledge about gold jewellery manufacturing. The scheme not only helped us with the training but also with gaining recognition in the market and getting easy loans. Banks will trust us now and we will have no issues in providing loans easily. "
Ravi Kant, another goldsmith, added, "Since we come from villages, most of the people in the market don't trust us; they feared we would take their money and won't deal fairly. But after the certificate, people in the market trust us. Trade/business is easy."
Anil Babu, owner of Modern Jewellery Tools said, "The goldsmiths had no idea about equipment like industrial melters and furnaces and mixers. After the scheme, our sales have increased. Goldsmiths now want to manufacture gold in an efficient manner, with the latest equipment. They possess experience now, the scheme is a great initiative by the government to educate the people about skill development."
The training was organised under the Prime Minister Kaushal Vikas Yojana (PMKVY). Organisers said that 1500 people had joined the training, and 1200 earned the certificate.