Laparoscopic sterilization is on the rise in Manvi Taluk, Raichur District.
Manvi Taluk in Raichur District has seen a rise in laparoscopic sterilization in  2018. The number has reached 2323 as per the official reports. The rise in the number is seen as a result of awareness about family planning spread by Asha Workers.
Anuradha, an Asha worker at the General Hospital explained  that before,  in the Taluk, people use to have four-fivechildren, and usually the later ones were born weak and with several diseases. In addition to that many women  started facing problems in their later pregnancy.
According to The National Center for Biotechnology Information, laparoscopic is a surgical sterilization procedure in which a woman's fallopian tube are sealed. According to Duo, as population growth is a big challenge in India, family planning is highly prioritized by the government.
According to the national health mission, India is the first country that launched a National family planning programme in 1952, emphasizing fertility regulation for reducing birth rate, to the extent necessary to stabilize the population at a level consistent with the socio-economic development and environment protection. Since then the demographic and health profiles of India have steadily improved.
Abirami, a patient at the General Hospital said, "I have four children and the later one is a little weak, his immune system is so weak that every two weeks he falls ill. The main reason for opting this operation was to not have any other weak children."
"Asha workers go from village to village and counsel hundreds of women about the importance of family planning.It is thanks to the efforts of the Asha workers that people are coming forward for the operation", confirmed Dr.Padhye at the General Hospital.
[media-credit id=34 align="alignnone" width="288″]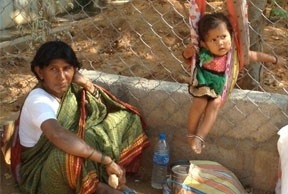 [/media-credit]
"Me and my husband decided to go for this operation in order to be safe and majorly for the good upbringing of other children", said Abirami, a patient.
Asha Workers conduct laparoscopic sterilization twice a week at the hospitals in the Taluk. They charge 150 rupees  for the operation. According to a report, the major reasons for sterilization was  that 41.25 percentconsidered it good for the upbringing of the other children and 38.12 percent get it done due to economic compulsion.
Dr.Poonam Gupta, a gynaecologists believes that family planning is extremely important for the health of a mother and her children.In addition to that, planned pregnancies result in healthier children and lesser medical issues for the mother. Family planning in rural areas of India is definitely an important aspect, as it helps improving the financial status of the family. The initiative by the Asha workers is commendable and helps improving the health, social, and financial status of the family.