Spell checks for Formalin in fish, in the month of June, no results on the issue.
Bangalore, Nov. 18, 2018: In June 2018, searches were conducted in Mysore and Mangalore among other places in Karnataka, and their results were publicly declared, but the search conducted in Bengaluru was not publicly spoken about. Can you rephrase this paragraph?
The backdrop of the issue was that fish was found laced with the cancer-causing chemical for preservation over long distance while being imported/ exported. One such haul of 9,000 fish was caught from Palakkad on its way to Kochi.
An inspection was made by the BBMP on insistence by the mayor for formalin-laced fish in the various markets of Bengaluru because it wasn't publicly declared whether the practice existed or not.
The Food Safety and Standards Authority of India (FSSAI) had reported the presence of formalin in fish in June of this year and had issued warnings to the consumers who were buying fish.
When fish is purchased, it should be washed thoroughly in running water as the compound is dissolvable, must be cooked in temperature above 75 degree Celsius and above to evaporate it if absorbed by the skin or flesh of the fish. A 'CIF Test 'can be used which is a rapid detection kit by 'The Central Institute of Fisheries Technology' (ICAR-CIFT).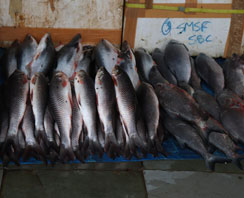 Sayyid Ahmed, an owner of a fish stall in KR Market, stated that there was a surprise inspection in his shop and the surrounding shops around June of this year, and the officials hadn't come back with the results but he believes that there was no formalin in the fish they sold.
Formalin is more officially known as formaldehyde or methanol and it is an organic compound dubbed as the human carcinogen. It is a compound used for various purposes like industrial, medical, and even photography. The compound has many forms like vapour, but most commonly as liquid and even solid form.
Vinyaas Shivanad, a resident of RR Nagar says "We usually buy fish for occasions and not on a regular basis, so our most favourable and preferred option is Metro Store. Since we buy fish in a bulk, it's not only better but also economical. If one has to consider the safety side of it, Metro does have cold storage and preserved items but it's safer than markets as well"
Sunil Kumar, an architect from Nagarbhavi says "Bangalore fish definitely has formalin in it, I'm sure of it. I'm extremely fond of fish and being a frequent consumer of it, I can see the kind of fish I buy. Fish with formalin in it is extremely unnatural to see and keep. The eyes of the fish are flaky, the pungent smell doesn't come, it doesn't go stale when you don't ice it or keep it out in humid temperatures, and most importantly, there will be no flies around it as the chemical will repel them. I had a personal experience with this, where I had fish bought from a particular place, twice and both the times, I had food poisoning."
Nishant NL, a resident of Vijaynagar says "My family purchases fish from a vendor in my locality itself for the past 13-15 years. To date, I have not contracted any symptoms, diseases or conditions, because of it. I think the fish I eat is safe."