The city has just 22 fire stations, as opposed to the required 79.
Issues of fire safety become particularly important in light of recent incidents in the city. In August of this year, a KSRTC bus caught fire along a flyover in KR Puram.  It was reported that the conductor had managed to douse the fire before officials reached the spot. In January, fire at a bar in Kalasipalya reportedly left five dead. Furthermore, firemen at a city fire station contend that they receive approximately 100 calls in a month.
Bengaluru is 57 fire stations behind the number prescribed for the city. According to the Department of Fire and Emergency Services, the number of fire stations in Bengaluru stands at 22. In a 2011 report by the Karnataka State Fire and Emergency Services, it was inferred that the number of stations Bengaluru ought to have is 79.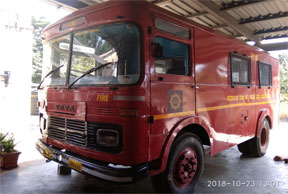 In the same report, the number of fire stations in the city stood at 20. However, only two new fire stations have been established in the last seven years. This information is pertinent in light of the population growth in Bengaluru over this time period. In the year 2011, the city's population was 8,443,675. In 2018, the population is estimated to be 12,476,000. "There ought to be a fire station for every two lakh people", K Shivakumar, Deputy Director at the Karnataka Department of Fire and Emergency Services noted. "Ideally, the fire engines ought to leave the shed in a minute. However, that time of arrival depends on the extent of  traffic."
With regards to establishing more fire stations, he believes that certain basic needs ought to be fulfilled. "The BBMP corporator ought to ensure that there is a shed for the vehicles and sufficient arrangements must be made for staff", he mentioned.
'The government takes its own time", he remarked.  However, Shivakumar believes that Bengaluru is vast and hence, the viability of installing 57 fire stations is less.
Uday Vijayan believes that a number of elements to fire safety are connected to civic bodies like the BBMP. Vijayan is the Managing President and Trustee of 'Beyond Carlton' – an NGO that seeks to promote fire-safety awareness among the public. The organization is also credited for designing a five-year blueprint for Fire Safety.
"The blueprint was one year in the making. Rather than sitting in our ivory towers, we decided to work with the Fire Department", Vijayan remarked. "The Bangalore Vision Group recommended similar studies for various sectors like lakes, waste management etc. However, Beyond Carlton were the only ones to come up with a study on fire safety", he went on to explain. There are plans, however, to set up more fire stations. "We are looking to set up sub-stations in areas with low connectivity. A proposal for 15 – 20 new stations has been made", Shivakumar said.
| | | | | | |
| --- | --- | --- | --- | --- | --- |
| Risk Zones | Total Area | Suggested Response Time | Total FS Required | FS Available | FS to be Developed |
| | Sq. Km | Minutes | Nos. | Nos. | Nos. |
| Very High | 103.17 | 3 | 27 | 1 | 26 |
| High | 261.66 | 5 | 25 | 9 | 16 |
| Medium | 194.99 | 5 | 16 | 7 | 9 |
| Low | 164.66 | 5 | 11 | 3 | 8 |
| Total | 709.34 | | 79 | 20 | 59 |
Source: A March 2011 report by the Karnataka State Fire and Emergency Services
Picture Credit : Karnataka Fire Department