Three weeks have passed since the Ganesha Festival, but the remaining of immersed idols has not been cleared yet.
Bengaluru, Oct. 11, 2018:Three weeks after the Ganesha Festival celebration and idols immersions all around the city, Ulsoor Lake is suffering from foul odour. The Bruhat Bengaluru Mahanagar Palike (BBMP) had provided a separate space for the immersion in the lake.
''Negligence of BBMP has created a problem of foul smell as water is logged due to segregation of husk, soil and wood. Even now, people come here to flow their flowers and other things, said a vendor.'' Ulsoor Lake is one of the developed lakes among 167 lakes in Bengaluru, according to the data of BBMP.
Aquatic weeds like reeds, water hyacinth and Typha are present in the lake, where water hyacinths are causing problems for fishing, water flow, and navigation. The presence of Hyacinth leads
to transpiration which causes excessive loss of water.
Maintenance work of walkway and garden area is being done by the Prestige Group, said one of its employee. ''Currently, work of walkway is being done by us, as half of the total length has been completed. We have the target of completing it before the rain starts,'' he added.
The lake has a dense area covered by plastic waste and grasses, which helps in breeding of mosquitoes all around it.
An Environment Engineer of BBMP said, ''Seven acres of area is occupied by the aquatic weeds, and the cleaning of lakes is done by the different private companies every year in rainy season.'' The authority of this lake is under the Revenue Department, and since 2007 they gave maintenance work to us. ''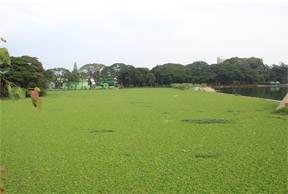 A Memorandum of Understanding is settled between BBMP and Prestige Group since  January 2016 to January 2019 for maintenance of walkways and gardening work. Cleaning of water is done by us.'' Drainage system should be looked by the Tank Development Authority but that work is also done by us.
''This year Prestige Group was urged to take all the responsibility of lake and the proposal is under process.'' Every lake needs to be known by its WQI (water quality index) which is tested in every month by the KSPCB (Karnataka State Pollution Control Board).
''WQI of Ulsoor Lake is D category in the month of September, which is suitable for fishing according to the lab test of KSPCB, "she said.
Paul, one of the residents said that the lake does not look like it used to. ''Even, work of walkway is done by putting soil which converts into mud after  rain.'' In addition to this, ''responsible authority needs to remove the waste left after idol immersion and removing of water logging due to plastic waste.''
Mamtha Saravana, Corporator of Ulsoor said, ''work of remaining waste of idols will be done within 15 days and work is going on and will be completed very soon.''
Anil Abbi, water conservationist said, ''negligence by the authority could be seen, as after three weeks of the festival, waste is still present. Problem of plastic and domestic waste is not new in terms of unhygienic condition of lakes of Bangalore, lakes need attention so that the aquatic life is maintained and the lake ecosystem is intact.''