Introduction of silver oak in coffee plantation in Western Ghats may be a threat, predict scientists.
Bengaluru, Oct. 11, 2018: For many years the coffee planters in Western Ghats near Bengaluru have planted exotic silver oak (Grevillea robusta) whose pole-like trunk is used as a support for the coffee plants, to help boost incomes.
People involved in the coffee plantation believe there is a benefit for maintaining a traditional and commercial method of shade growing. The tree also shows significance as it is being promoted as a suitable crop grown in wastelands.
Recently, a new research by scientists, as well as an old research of IISC (Indian Institute of Sciences) shows that growing silver oaks with coffee might be disastrous for coffee-growing areas.
The results show that the trees cause more radiation, release high temperatures, and decrease humidity and precipitation in the plantation farms, which could be a threat to coffee plants because the plant needs more water to grow.
The study confirms that silver oak leaves contain some amount of aluminum that might cause damage to the soil, making it radioactive and infertile. It is also believed that the tree cannot support the hatching of birds and habitat.
On the other hand, horticulturists and plantation farmers believe that growing silver oak helps the coffee in many ways.
According to M. Vasundhara, HOD of Horticulture at the Gandhi Krishi Vignana Kendra, silver oak is a traditional plant for coffee. It has been used for many years, and it is a traditional way for shade management.
Sharmila Rebello, a coffee planter from Sakleshpur in Hassan said, "We collect all the oak leaves and put them under coffee plant to act as manure. We grow species of Arabica and Robusta.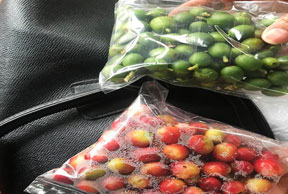 Because of excess rain, coffee dropping put the coffee planters in trouble and results in economic losses this year. In fact, planting of silver oaks gives the planters a side income that doesn't require permission from the forest ministry – whereas the rest of the trees those are planted need permission to be cut down.
The Deputy Director of Horticulture in Chikamangaluru said, "Coffee plantation and horticulture department believes that the new survey is hampering the old traditional practice of growing these trees. It still needs proper research to show that this practice causes a problem in disaster control and climate control.  Yes, we can grow silver oak trees in-between coffee plantation in our district, so the planters get better yields."
The final estimate 2017-18 of coffee according to coffee board, government of India is 222,300 oz and the post blossom estimate 2017-18 is 251,760 oz which shows a decent increase in the yield after using silver oak.